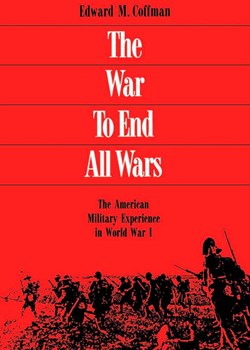 The War to End all Wars. The American military experience in World War I. Edward Coffman.
The history of the American involvement in the Great War, first published in 1986 by OUP, has been to many the standard work on the subject. It was based upon some sources new at the time and used interviews with 30 survivors, including two divisional chiefs of staff. In spite of new research which has since been done, the author has decided not to revise his original text. In effect, we have available again this useful account the work done by the Americans on the Western front where over 50,000 of them died. It's a very readable book, too, and worth having solely for the long essays and saucers at the end.
Bob Wyatt (1992)
In 1998, Paul Guthrie interview Dr. Coffman at length. This interview appeared in 'Stando To!' no.54 January 199. Read this interview here - 
This review first appeared in the Winter 1992 edition of the Western Front Magazine 'Stand To!' no. 36
There are many benefits to joining the Western Front Association - including automatic subscription to our magazines 'Stand To!' and 'Bulletin'.  To find out more click here: Benefits of Membership.