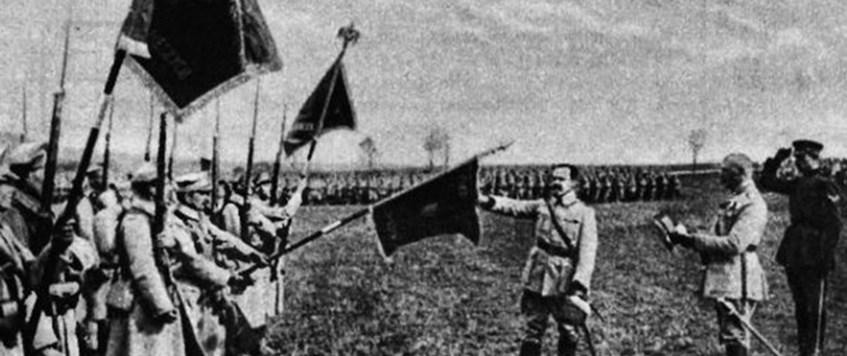 Marcin Hasik will be giving a talk on the Polish Armed Forces in the Russian Army in the First World War.
The Polish Blue Army was a military contingent created in France in the latter stages of World War I. The name "Blue" comes from the colour of the uniforms. The volunteers for the newly formed unit came from all over the world, but with the majority coming from the U.S.A. and Canada. They saw some action on the Western Front in the summer of 1918 in the Champagne region, relieving the American "Wildcat" 81st Division. In July the Blue Army played the active role in beating back the German offensive. After the war the Blue Army became a backbone of the new Army of the independent Poland and played a crucial role in Wars with Ukraine and Bolsheviks Russia in 1919-1920." 
Marcin will also talk briefly about the other contributions made by the Poles in WW1, as well as the main theme of his talk the ?Blue Army?, more than 3 million served in the Russian, Austrian and German Armies and 500k lost their lives.
Marcin has been living with his wife in Dublin for the last eleven years. He has a  MA in history (University of Wroclaw), and is currently working on his PhD (Military aspects of the Irish Civil War 1922-23) While living in Ireland he has developed a huge interest in Irish military history, from medieval times to WW2, his goal is to promote it in Poland, writing about it and trying to publish it. As well as the Western Front Association, he is also a member of the Military Society of Ireland.
IMAGES:
American recruitment poster for the Polish army in France by W.T.Benda. Courtesy of Wikipedia. Public Domain. 
General Józef Haller and his Blue Army. Courtesy of Wikipedia. Public Domain. 
Pearse Street Library, 138 – 144 Pearse Street, Dublin 2
08 Dec 2018 14:00