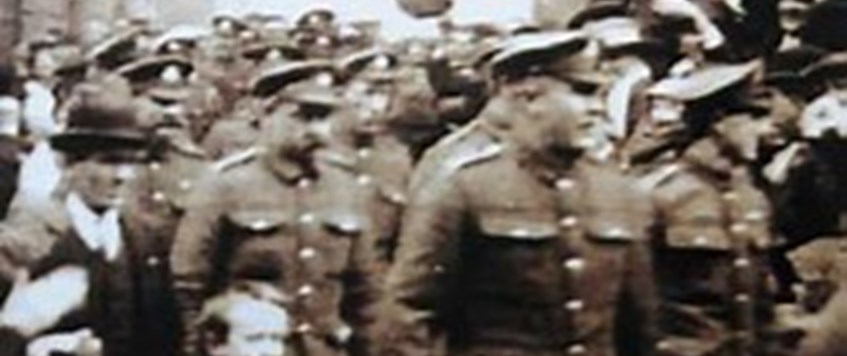 "BRAVEST LITTLE STREET IN ENGLAND – Carole Evans ??  ZOOM
The Bravest Little Street in England; bringing a town back its memory.
"The passing of time which makes memory possible and necessary is also what makes memory fade and die" (Batchen).
If this quote by Batchen is true, how, then, do we create a memory 100 years after the event? This paper uses Batchen's statement as a starting point to explore the use of photography in constructing memories and commemoration. The research coincides with a current practice based project, in which I attempt to create a memorial for the men of Chapel Street in my hometown of Altrincham.
 Chapel Street was named "the bravest little street in England" by King George V, after 49 of the 129 men who enlisted never returned home. Chapel Street was later razed to the ground in an attempt to clean up the town in the 1960's. The only memorial that exists of the Chapel St men is the generic Lutyens War Memorial, and a blue plaque marking the spot the street once stood. My work attempts to evoke a memory, and a personal connection, with these brave men who lost their lives.
 As a photographer, it is the image of these men to which I turn. But if their image doesn't exist, what is left to trigger their memory? Can memories be constructed in other visual ways? Drawing on the writings of photography theorists such as Geoffrey Batchen, and work by established artists such as Christian Boltanski, this paper will use my own practice as the basis for an exploration into the act of re-creating collective memories.
Sutton Trinity Centre, Church Hill, Mill Street, Sutton Coldfield, West Midlands, B72 1TF,
07909006733
15 May 2021 14:00