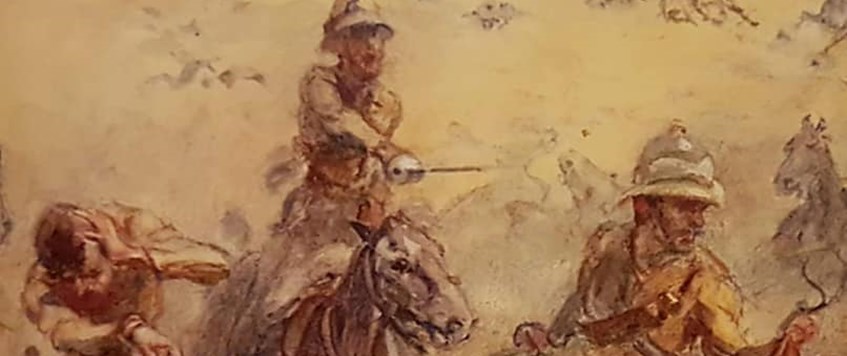 We live in a digital world and when it comes to military history not everything we find in books or in the internet is accurate. Using primary sources and original photographs from the Warwickshire Yeomanry Museum's Archives Philip Wilson's talk will provide:
A very brief resume of why the Regiment was formed in 1794.

We will then fast forward to the years immediately prior to the Great War to explore how the 1/1st Warwickshire Yeomanry was able to quickly mobilise within five days of War being declared.

The 1/1st Warwickshire Yeomanry can claim four years of active service during the Great War – we will cover some of the key events including the award of two Military Crosses and 18 MSMs for saving horses at sea in April 1915.

Part of the Regiment is deployed as Infantry at Gallipoli during August to October 1915, whilst those who are left behind fought against the Sennusi in the Western Desert.

In March 1916 the Regiment became part of the 5th Mounted Brigade and commenced two years continuous fighting during the Palestine Campaign.

On 8th November 1917, 1.5 Squadrons of WkY and 1.5 Squadrons of QOWH carried out a mounted attack, capturing 12 guns, breaking the resistance of the enemy rearguard at Huj.

In January 1918 the Regiment become 'B' Battalion Machine Gun Corps and had the misfortune to be torpedoed on the night of the 26/27th May 1918. By June 1918 they are deployed on the Western Front as Machine Gunners.

Following the Armistice demobilization gradually commences and those who are left behind form part of the Army of Occupation finally returning home in May 1919.

The talk will include the reasons for the formation of the 2/1st and 3/1st Warwickshire Yeomanry including how they were deployed.
Warwick Arms Hotel, High Street, Warwick, CV34 4AT
09 Oct 2019 19:45