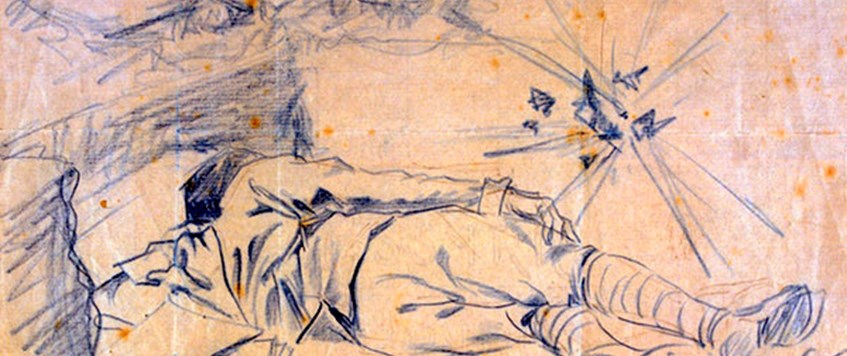 Dr. Jonathan Black will relate the career of Charles Sargeant Jagger MC (1885-1934) including his Western Front experiences and those related to war memorials (including the one for Bedford in 1922).
He was a First Lieutenant with the 2nd Worcesters, October 1917-April 1918 and took part in Third Ypres and Battle of Neuve Eglise (12-14 April 1918); it was for commanding a company during later that he was later awarded the MC and in the battle he was hit by a German machine gun bullet in the chest.
In early autumn 1918 the Ministry of Info commissioned him to make low-relief The First Battle of Ypres – The Worcesters at Gheluvelt (ref to the battle in October 1914). Into 1919 on his own initiative he made low-relief No-Man's-Land inspired by his memories of Passchendaele.
1919-30: he made sculpture for a dozen war memorials in the UK and abroad for the Imperial War Graves Commission and nearly all reference the Western Front in some way.
Jonathan Black read History with History of Art at the University of Cambridge.
Between 1997 and 2003, he obtained an MA and Ph.D. in History of Art from University College, London.
His MA focused on the English Futurism of CRW Nevinson (1913-1916) while his Ph.D. explored the image of the British soldier, or 'Tommy', in the First World War Art of C.R.W. Nevinson, Eric Kennington, and Charles Sargeant Jagger.c 1915-1925.
Jonathan has curated several exhibitions and his 2011 monograph, The Face of Courage: Eric Kennington, Portraiture and the Second World War, coincided with the opening of an exhibition with the same title at the Royal Air Force Museum.
This exhibition comprised of 40 of Kennington's Second World War pastel drawings and lithographic prints. He is currently Senior Research Fellow in History of Art at Kingston University.
Image: A Soldier's Art: Charles Sargeant Jagger Gooldie asleep, under shell fire, 1915.
Room SP101, The Sports Hall - St George's School, Sun Lane, Harpenden, Hertfordshire AL5 4EY, UK
28 Apr 2017 20:00