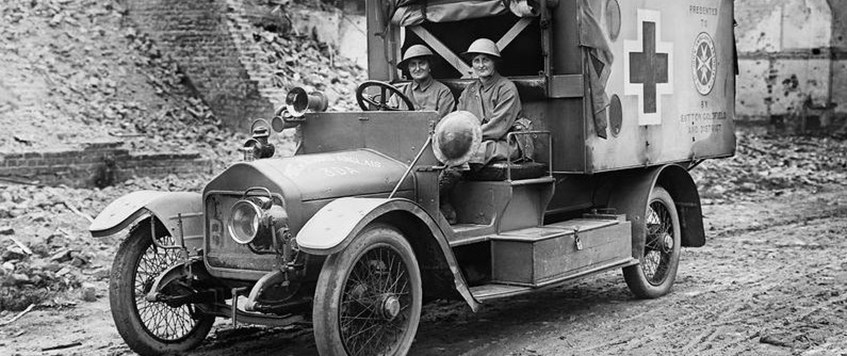 Caption: Elsie Knocker (later the Baroness de T'Serclaes) and Mairi Chisholm driving their ambulance through the ruins of Pervyse, near Ypres, 30th July 1917. The two women ran an Advanced Dressing Station on the Belgian front line for most of the war. Courtesy: Imperial War Museum Collections
 Online talks: This online talk starts at 19:45 and ends about 21:00. Participating is quick and easy. The only equipment you need is a computer, or a tablet, or a smart phone. Simply email wfa.nwkent@gmail.com for your link to the next video meeting. We'll also automatically add you to the mailing list to keep you updated with future events.
About the talk: Elsie Knocker and Mairi Gooden-Chisholm were the only women to nurse on the front line during the Great War. They first met at a motorcycle club in 1912. Once war broke out, they raced off to London on their motorbikes to "do their bit". Within a month, they were on the front line near Ypres in Belgium, evacuating wounded soldiers from their Advanced Dressing Station a hundred yards from the trenches to hospital by ambulance. Under constant threat from sniper fire and heavy artillery bombardments, their reputations spread and they were soon visited by journalists, photographers and royalty (in the persons of King Albert of the Belgians and Prince Alexander of Teck). The recipients of seventeen medals for bravery and self-sacrifice, they became known as the 'Madonnas of Pervyse'. This talk is based on Diane's book of the same name.
About the speaker: Diane Atkinson is an historian and author, writing on topics highlighting the roles played by women in history.  She has also written much about women's movements and while a curator at the Museum of London organised an exhibition about the Suffragettes. She is an experienced and entertaining speaker, and enjoys speaking to WFA branches.