Caption: The archduke's party sets off in Sarajevo.
Online talks: This online talk starts at 19:45 and ends about 21:00. Participating is quick and easy. The only equipment you need is a computer, or a tablet, or a smart phone. Simply email wfa.nwkent@gmail.com for your link to the next video meeting. We'll also automatically add you to the mailing list to keep you updated with future events.
About the talk: Every schoolchild is taught that WW1 was started because the Archduke Franz Ferdinand was assassinated. But there is so much more to Franz Ferdinand than his death. Sue Woolmans tells the story of the Archduke's life - set in the glittering but fragile Habsburg court; his fairytale marriage against all odds; and how even now history overlooks and vilifies his memory. 
About the speaker: Sue Woolmans is a Royal historian and writer whose work has appeared in Majesty and Royalty Digest magazines.  As well as 'The Assassination of the Archduke ...', Sue has contributed to two books on the Russian Imperial family. She is a sound engineer and lives in London.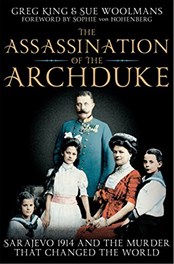 Royal British Legion Club, Queensway, Petts Wood, Orpington, Kent BR5 1DH
29 Apr 2021 19:45