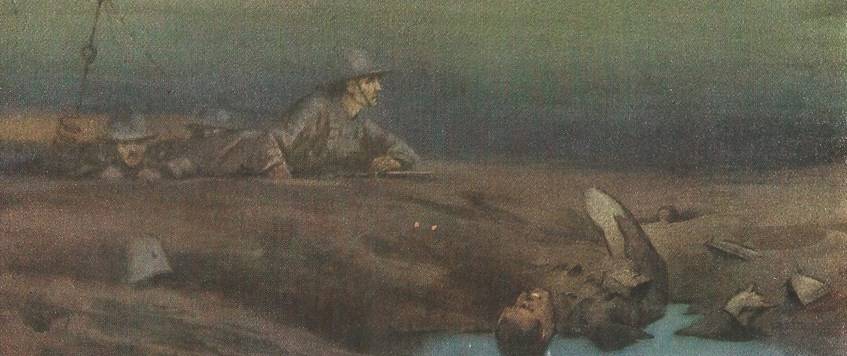 Captions - Above: painting from Foot Patrol (1916).
Below: Fraser Skirrow at the Start Line on the Somme in 2016.
Because of the present situation, all talks have been postponed
indefinitely and no branch meetings will take place until further notice.
About the talk: Opinion is divided over the role of patrol actions in trench warfare. At the time it was seen as a way of maintaining an aggressive attitude in periods of static warfare. Both contemporary and later accounts however speak of these actions as a waste of lives and effort, or a violation of the "live and let live" system. Using detailed accounts from war diaries and letters, contemporary and modern photos, this talk looks at the development of patrolling and raiding in a single battalion. It examines who was involved, how the patrol and raiding war actually worked, what was achieved and discusses whether the emphasis on patrolling had any effect on the fighting ability of a battalion as a whole. It is also an opportunity to get much closer to the individuals who were carrying out these patrols and what they experienced out in the dark between the lines.
About the speaker: Fraser is a former TA officer and the author of "Massacre on the Marne" the Battalion history of the 2/5th West Yorkshire Regiment. When he is not studying the Great War and visiting battlefields he runs a specialist consulting company in the development of new medicines…
Royal British Legion Club, Queensway, Petts Wood, Orpington, Kent BR5 1DH
30 Apr 2020 19:30