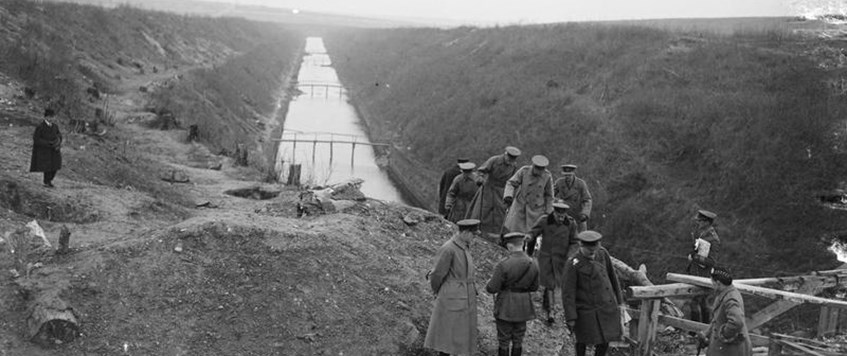 Above: George V inspecting the St Quentin canal after the attack,with the temporary assault bridges in the background.
The talk tells the story of the assault by one British division during the "Hundred Days". The 46th was a pre-war territorial division. Mobilised on the outbreak of war in August 1914, they had seen much combat during the intervening four years. They were part of the British Empire, American and French armies amassed to breach the formidable German fortifications of the Hindenburg Line on the far side of the steeply embanked St Quentin canal. The role of the 46th was to cross and secure the canal, clearing the way for reinforcements to stream through. But the Germans believed the canal defences were impregnable ...
Dr John Bourne is part of the World War One teaching team at the University of Wolverhampton. He is also a vice-president of the Western Front Association. He is particularly interested in the 46th (North Midlands) Division as he brought up in the Potteries, which is where the division was raised.
Royal British Legion Club, Queensway, Petts Wood, Orpington, Kent BR5 1DH
26 Jul 2018 19:30