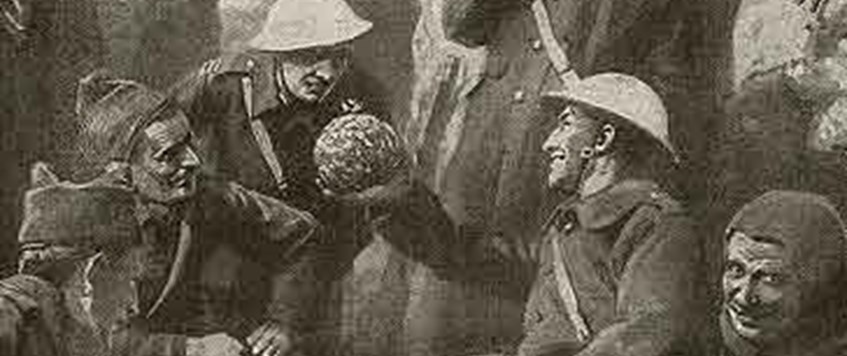 Christmas in Khaki takes us through each Christmas of the war in company with soldiers and nurses of the BEF, told in their own words, such as those of Lt Jeffrey Blake, attached to D Battery, 235 Bde R.F.A. 47th (London) Division:
25th December 1915: "Well here I am in the Mess as we call it, consisting of a room with one or two windows out, and a bucket with holes in it for a fire place; nevertheless we are looking forward to a good dinner... I am quite fit, but the mud, oh dear me, it is knee deep & runs over my knees into my boots. The rain too is awful, it rains all day, & as soon as I get out of my tent, I am really soaked... got slightly gassed the other day on the road... The French paper boys here do not shout, but blow an infernal trumpet, which annoys me very much, but when the English papers are out, they shout 'Paper!'" . 
It is talk about ordinary people caught up the extraordinary circumstances of war, far from home. There is action in the trenches, but also the chance of a dose of fun and laughter. Princess Mary's Gift Tin, fundraising at home for our men and women at the front, British, French and German Army Christmas cards, and art and illustrations from the frontline also feature.
The Armoury (TA Centre), Armoury Street, Stockport, Cheshire SK3 8AB
06 Dec 2019 19:30