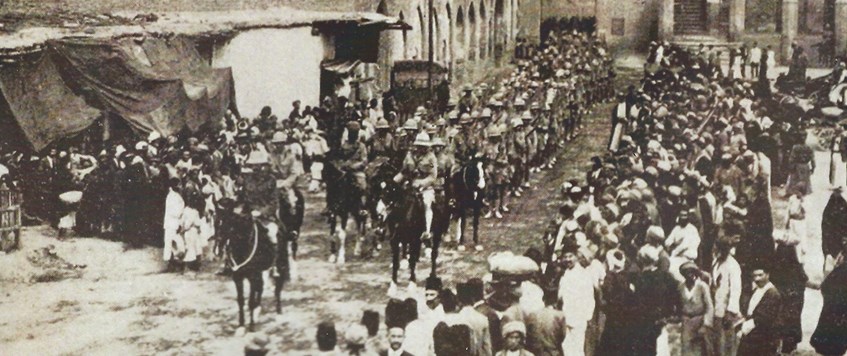 The Mesopotamia Campaign, fought in what is today Iraq, was the largest of the forgotten campaigns. Fought between November 1914 and October 1918 in constant contact with the enemy and in the worst of climates, the Mesopotamia Expeditionary Force (MEF) reached a maximum size of 440,000 men. Yet it is the least known of the Middle Eastern campaigns.
 The Siege of Kut is the most famous aspect of this campaign. It was the longest siege in British military history. It was also the greatest British surrender since Yorktown in 1781, and would only be exceeded by Singapore in 1942. Yorktown brought an end to Britain's American empire, and Singapore brought about the end of the British Empire in the East. It was feared that a surrender at Kut would also bring down Britain's empire in the East. For that reason, there were many desperate, costly attempts to reach the town fought in horrendous conditions.
 But either side of Kut were the most successful campaigns of the whole war. 1914/15 started with the most successful amphibious landing of the war, the last battle fought without air support, the most successful advance before 1918, culminating in the Battle of Ctesiphon twelve months later, 500 miles from the sea and just twenty miles short of Baghdad. After the failure at Kut, new generals re-invigorated the army which went on the offensive in December 1916 to capture Baghdad in March 1917. From there, they pursued the Ottomans to borders of modern Iran and Syria, and into Turkey.
 Paul Knight is a Major in the Army Reserve Royal Signals. He is currently OC 33 Signal Squadron in Liverpool and SO2 Commemorations at HQ North West, where he has been the WWI Project Officer for the last five years. His twin interests are Mesopotamia and the Lancashire Territorials. He has written four military history books and is a member of the Merseyside Branch of the WFA.
The Armoury (TA Centre), Armoury Street, Stockport, Cheshire SK3 8AB
14 Jun 2019 19:30