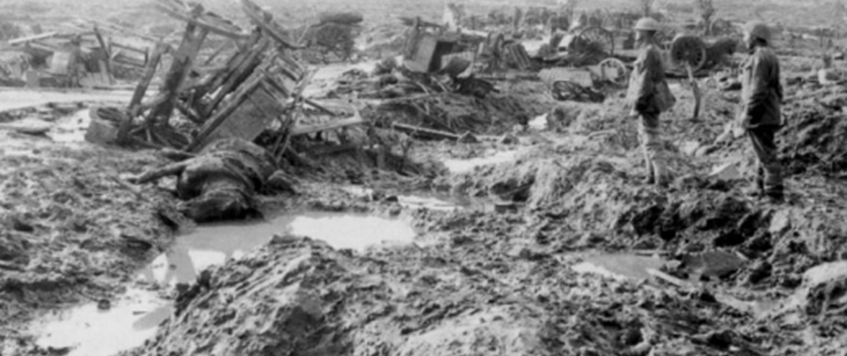 Paul Knight has, for the first time, transcribed in their entirety a unique collection of reports compiled for one general of one division s experiences in two battles during the Third Battle of Ypres. Compiled within days of each battle, these provide an authentic voice from the trenches. The views expressed are free and frank, with personal analysis of battle plans, tactics and weapon systems. They are written in such a way as to question the class-dominated deferential view of the British Army of 1917.

General Sir Hugh Jeudwine commanded the 55th Division from January 1916. His command of the division was highly regarded and was placed in the top third of the British Expeditionary Force. Jeudwine was neither a Donkey nor a Melchett. He also appears to have been genuinely liked. After the war, he became Inspector General of the Territorial Army and Honoury Colonel to one of the division s artillery regiments. On his and Lady Jeudwine s death, their ashes were placed in the division s memorial in Liverpool s Anglican Cathedral.

The 55th (West Lancashire) Division of the Territorial Force had its pre-war headquarters in Liverpool. Its unit were recruited from Warrington through to Barrrow in Furness. In common with the rest of the Territorial Force, the division was originally formed in 1908 for Home Defence. When the War Office asked for volunteers in August 1914, all units in the division volunteered and they started to deploy to France, Flanders and Gallipoli from late-1914.

The division was reformed in France in January 1916. It retained a strong affiliation with Lancashire which Jeudwine exploited to create a corporate identity around the Lancashire Rose. In 1916 and 1917, the divsion fought on the Somme, at Third Ypres and during the German counter-attack during Cambrai. During the German Spring Offensive of April 1918, the division held the line at Givenchy and has been credited with saving the British Army. One of the division s two memorials are in Givenchy. At the end of the year, the division went on the offensive to advance fifty miles into Belgium.

55th Division attacked twice during the Third Battle of Ypres, at Pilckem Ridge (31 July 1917) and at Messine Road (20 September 1917). After each attack, Jeudwine collected Narratives from his men. These range from formal reports from Commanding Officers to Private soldier s handwritten memoires on a sheet of paper torn from a notepad.

These Narratives offer a fascinating, first-hand account of two major actions written within days of the battle. Although the Narratives have been used before, this is the first time they have been published in their entirety.
RAFA Club, Westby House, Golden Hill, Leyland PR25 3NN
07474 370698
25 Nov 2019 19:30