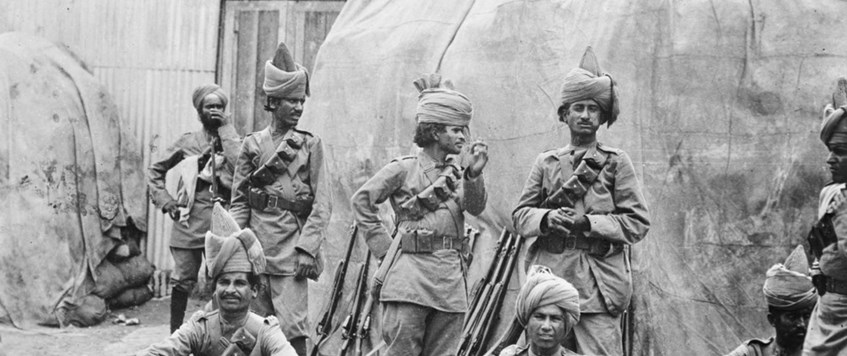 Santanu Das will be giving a talk on 'Race, Empire and the First World War'.
Dr Santanu Das teaches English at King's College London. He grew up in Kolkata and read English at Presidency College Kolkata, and at St John's College, Cambridge. He was a research fellow at St John's, and then at the British Academy. In 2012, he moved to King's College London from a senior lectureship at Queen Mary, University of London.
He is currently completing a book provisionally titled India, Empire and the First World War: Words, Objects, Images and Songs. In 2009, he was awarded a Philip Leverhulme Prize and in 2014, a British Academy Mid-Career Fellowship. He is the author of award-winning Touch and Intimacy in First World War Literature and the editor of Race, Empire and First World War Writing. He is part of the Guardian's First World War interactive documentary, available in seven languages with 30 minutes of film documentary, interactive maps and picture galleries.
IMAGE: Indian troops stand around or sit on their packs as they prepare to leave their base. Q 70213
Walthamstow Cricket Tennis & Squash Club, 48a Greenway Ave, London. E17 3QN
15 Nov 2018 19:30