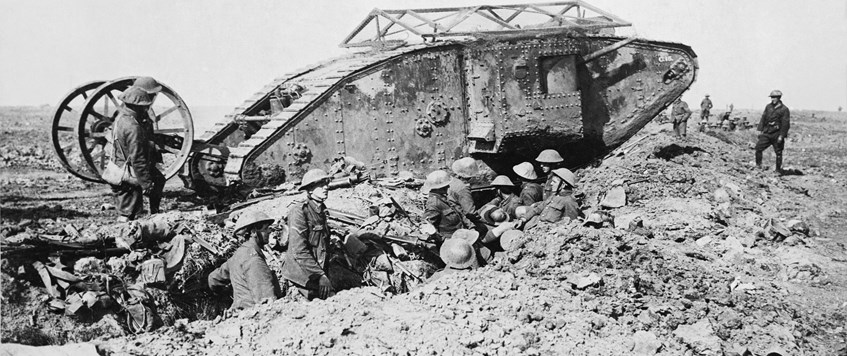 This screening of the 1917 film "The Battle of the Ancre and Advance of the Tanks" with live orchestral accompaniment by students and staff of the Waltham Forest Youth Orchestra is the very special finale to our 2018 World War One Day, a partnership event between the East London Western Front Association, Waltham Forest Museum Service and St Mary's Church.

"The Battle of the Ancre" is the official film of the British Army's autumn campaign on the Somme, which ran from 15 September to 18 November 1916.

It is the sequel to "The Battle of the Somme" (1916), which covered the opening phase of the campaign (Battle of Albert) and the infantry offensive on 1 July 1916, but "The Battle of the Ancre" should not be dismissed as Somme II.
Although less well known than Battle of the Somme, which did record business at the box office, Battle of the Ancre also drew big audiences and was a critical success. Many consider "The Battle of the Ancre and the Advance of the Tanks" as the better film cinematically and it contains haunting images of trench warfare, notably of the mud that beset the battlefields, the waves of troops advancing into no man's land, the use of horses and the first views of the 'Tank'; the secret weapon which it was hoped would break the military deadlock on the Western Front.

Waltham Forest Youth Orchestra performed Laura Rossi's magnificent score for The Battle of the Somme at the Assembly Hall last year to great acclaim. Laura is also the composer of the music for Battle of the Ancre and we are delighted that she and Toby Haggith of the Imperial War Museum will be introducing this event.
Tickets are available from Eventbrite for £11.37 (full view) or £5.98 (restricted view).
Image: Ernest Brooks - This is photograph Q2486 from the collections of the Imperial War Museum (collection no 1900-09). Q2486 IWM
St Mary's Church, 8 Church End, Walthamstow E17 9RJ
15 Sep 2018 19:30