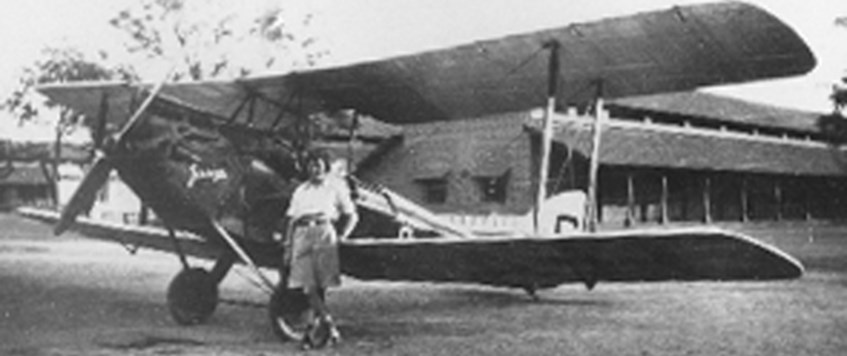 Amy Johnson and the WW1 Ace - Talk by Roy Smart
Aviatrix ,  Amy 'Johnnie' Johnson,  'The Aeroplane Girl' who,  from  modest beginnings as a fishmonger's daughter from Hull,  by singular grit and determination,  taught herself the basics of aviation and  then with little experience  and against all the odds - after an extraordinary pioneering feat of solo flying half way round the world in a fragile little biplane  - emerged to a crescendo of fame, celebrity and heroine worship.  Now,  'the  darling of the nation',  Amy brought sunshine in those turbulent 1930s  days of  trailblazing  aviation and technological development, the Big Band era of Swing, the Great Depression,  unemployment,  the rise of The Third Reich  and the darkening clouds of another war.
Roy Smart tells the story of this magnificent girl and her flying machines; her triumphs  and disasters, her highs and lows, her ups and downs -  not least her calamitous marriage to the  "The Flying Scotsman" - and then, unravels the mystery of her disappearance one winter's Sunday off Southend,  serving  her country in its hour of need  as the Battle of Britain  gave way to the Blitz.
In the words of the popular song  - ' Amy, Wonderful Amy '  -  a  girl of contradictions; resolute and naïve,   intrepid and foolhardy,   inspirational  and   -    enigmatic !
Profile of the Speaker
Roy Smart  was a Naval Officer, Fleet Air Arm pilot and air director of many great national memorial events including the televised  D Day, VE and VJ Day  commemorations attended by the Queen and fifty heads of state, together with  flying displays and aviation pageants.   With  an interest in history and art, he recently contributed to the BBC Radio centenary commemorations of the Battle of Jutland
Members of the Western Front Association and non-members are equally welcome to attend. We ask for a modest £3 donation on the door to assist in covering room charges and speaker expenses. The Club's licensed bar is available for use by all attending our meetings.
Any new visitors will be assured of a welcoming and friendly atmosphere among a group of like-minded enthusiasts.
Royal Naval Association (Southend) , 73-79 East St, Southend-on-Sea, SS2 6LQ
15 Jul 2019 20:00