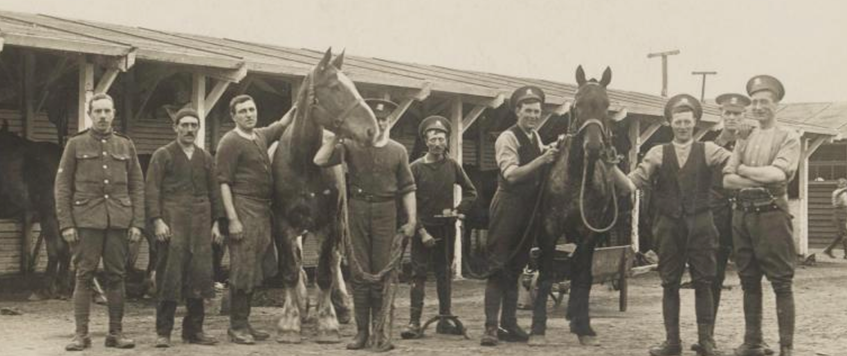 We welcome back Dr Graham Winton for his second visit to the branch.
Graham is a retired Principal and part-time tutor with the University of Cambridge Institute of Continuing Education. He lectured extensively in Britain, the USA, India and South Africa on military/landscape history, in particular, the Anglo-Boer War
 1899 - 1902
 and
First World War
 1914 - 1919.
Graham has written and published widely on military horses and veterinary services. His major publication is
Theirs Not To Reason Why: Horsing the British Army 1875 - - 1925
(Helion,
 2014). He is c
urrently
working on his book
The Anglo-Boer War Diary of Capt. John Moore [later Maj-Gen Sir John Moore
DAV Services Western Front],
North West Frontier campaign of 1899 - 1900 with Colonels' Plumer and Baden-Powell
;
Private letters of a cavalry officer killed in 1916
;
Biography of Maj-General Sir William Birkbeck
,
Remount Department 1899 - 1902 and Director of Remounts 1914 - 1919.
Graham has recently appeared on BBC/ITV television and radio programmes relating to horses in the First World War recently filming in France on the draught horse during
 1914 -1919.
Graham will be setting the scene for the Army Veterinary Corps going into the First World War and the crucial work in keeping the vast number of military animals cared for in all theatres of war,
and returning trained fit animals back into service. He argues that the AVC was one of the key factors in winning the war in
 1918.
 He will be 
looking at a few AVC personnel and their work during the FWW notably Maj-Gen Sir
John Moore. 
Meeting Rooms, 3 Merrial Street, Newcastle under Lyme, ST5 2AD
08 Jul 2019 18:30