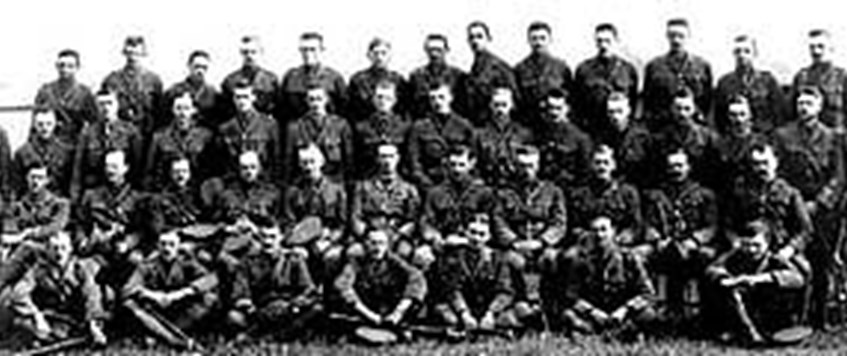 Andrew Tatham: A Group Photograph – Before, Now & In-between
In 1994 Andrew Tatham came across a photograph taken in May 1915 of officers in the 8th Battalion of the Royal Berkshire Regiment, including his great-grandfather the commanding officer.  He set about tracing all of the men and finding their families, a task that took over 20 years.   So successful was his search that the project became a major exhibition at the In Flanders Fields museum in Ypres and a well-reviewed book.
 His presentation tells the stories of the men in the photograph, not just their shared history in the First World War but also the bigger picture of their families before the War and through to the present day.  It includes a video showing their family trees and photos.  His talk describes the history he uncovered and the detective work involved.
 After Andrew's presentation we will enjoy our Christmas 'do' We will provide the drink and paper plates but would ask members to bring goodies to eat – those at the November meeting were divided into two teams with half bringing sweet delicacies with the others concentrating on savoury stuff. If you weren't there bring whatever you think suitable to add to the feast!
Members of The Western Front Association and non-members are equally welcome. We ask for a modest £3 donation on the door.  There is a book raffle and books about the Great War are usually available for sale.
New visitors will be assured of a welcoming and friendly atmosphere among a group of like-minded enthusiasts.
The meeting starts at 7.45pm.  Doors open at 7:15pm.  Come early to browse the books for sale and to chat about the Great War with other attendees.
Photo Andrew Tatham
Cobham Day Centre, Lushington Drive, Cobham, Surrey KT11 2LY, UK
12 Dec 2018 19:45