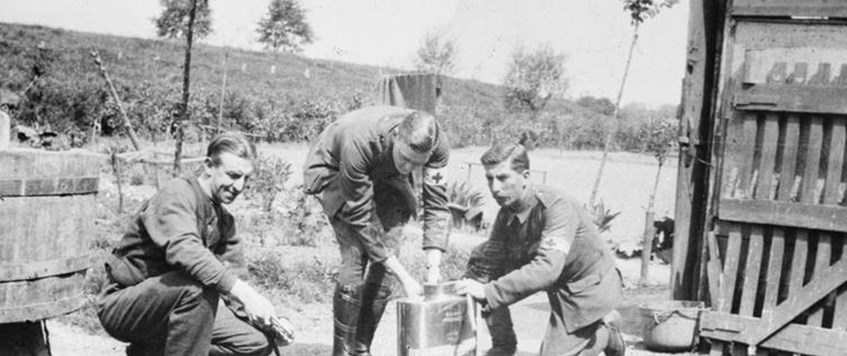 Although the 1907 Hague Convention outlawed the use of gas projectiles in warfare, the German chemist Fritz Haber began developing the use of chlorine as a weapon intending to circumvent the rules of war by releasing the gas from cylinders. The Germans first used gas against the Russian army as the Tsar's government had not signed up to the Hague protocols but by early 1915 Haber was arguing his tactics could break the dead-lock of the trenches.
On April 22nd late in the afternoon (Haber, in uniform and the only non-military commander to order an attack, had to wait for the wind direction at St Julien to be in the right direction) the Germans launched 165 tons for gas from 2000 cylinders. Although the results of the attack are disputed, the events changed the nature of warfare forever.
Immediately, the RAMC was instructed to organise medical treatment and defensive measures. Pete's talk will describe the RAMC's response to this new threat.
Pete Starling is a retired Director of the Army Medical Services Museum and a former RAMC officer. He lectures profusely on the medical aspects of the First World War and other campaigns and has written many articles and papers on the subject. He has led battlefield tours concentrating on medical aspects of the war including the Western Front, Gallipoli and various Second World War battlefields. He holds a MA in British First World War Studies and is a Fellow of the Royal Historical Society.
Members of The Western Front Association and non-members are equally welcome. We ask for a modest £3 donation on the door.  This includes tea, coffee and biscuits at the break (before the Q&A session with the speaker). There is a book raffle and books about the Great War are usually available for sale.
New visitors will be assured of a welcoming and friendly atmosphere among a group of like-minded enthusiasts.
The meeting starts at 7.45pm.  Doors open at 7:15pm.  Come early to browse the books for sale and to chat about the Great War with other attendees.
The image shows the Medical Officer of the 1st Buffs, (East Kent Regiment) testing a Vermorel Anti-Gas spray at Houplines. April 1915. 6th Division. © IWM (Q 50234)
Cobham Day Centre, Lushington Drive, Cobham, Surrey KT11 2LY, UK
15 May 2019 19:45