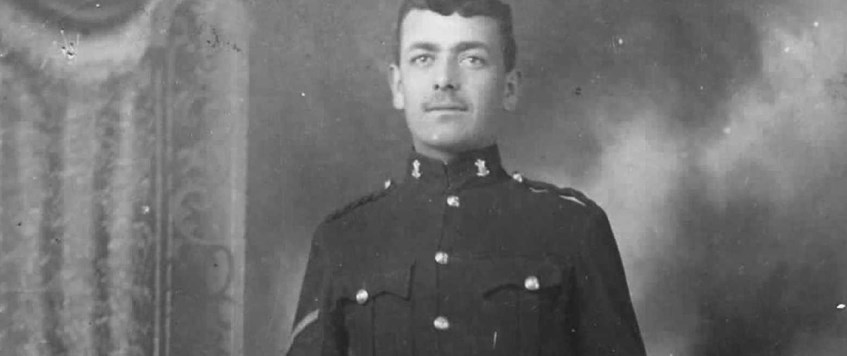 The first part of the meeting will be the AGM.  This normally takes about 20 minutes.  The Branch committee will share their thoughts on the proposed day trips that we plan to organise in the future. 
During the second part of the meeting we will revisit the contentious issue of the execution of 346 men who were shot at dawn for a variety of military offences during the war.
We welcome Janet Booth, grand-daughter of Harry Farr who was one of the most contentious of the cases. Farr was a Londoner who had been a regular soldier before the war, in August 1914 he was recalled to the ranks of the West Yorkshire Regiment and served in France and Belgium from early in the war.
During the battles of early spring in 1915 Farr's battalion were exposed to long periods in the front line and during this time he began to suffer nervous reaction to the intense shelling. He was repeatedly sent to various aid posts for treatment but was always returned to the line after a period of quiet and relaxation behind the lines.
In September 1916 Farr was involved in the Battle of Flers when his nerve broke for the last time and he disobeyed orders to join a working party in the front line. He was charged with cowardice, tried by FGCM and sentenced to death. He was shot on October 18th.  His body was lost and is remembered on the Thiepval memorial.
Janet and her mother researched Harry's time in the war and fully understood that his case was a serious miscarriage of justice.  They began the campaign to have those shot for military offences pardoned. After much debate and discussion, the men were pardoned in 2006. Janet will outline the impact Harry Farr's death had on her family and how she co-ordinated the campaign for pardon.
Her personal thoughts on such a challenging subject are well worth hearing. Janet will be selling copies of her book at the meeting.
Andy Day will also outline other contentious cases that provoked much comment and disquiet by describing the chain of events which led these men to face a firing squad.
Members of The Western Front Association and non-members are equally welcome. We ask for a modest £3 donation on the door.  This includes tea, coffee and biscuits at the break (before the Q&A session with the speaker). There is a book raffle and books about the Great War are usually available for sale.
New visitors will be assured of a welcoming and friendly atmosphere among a group of like-minded enthusiasts.
The meeting starts at 7.45pm.  Doors open at 7:15pm.  Come early to browse the books for sale and to chat about the Great War with other attendees.
The image is a formal photo of Harry Farr.
Cobham Day Centre, Lushington Drive, Cobham, Surrey KT11 2LY, UK
20 Nov 2019 19:45