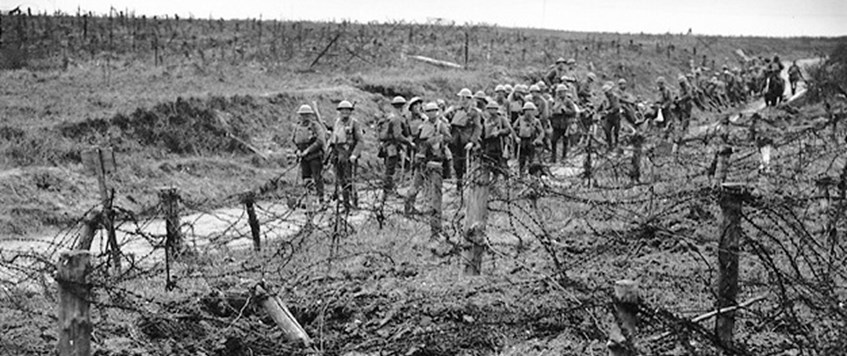 Clive Harris will be giving a presentation on the breaking of the Hindenburg Line by allied forces in September 1918.  These successful operations were the beginning of the end for the German army.
Clive Harris is a full time battlefield guide, joint owner of Battle Honours Tours and holds an MA in British Military History from the University of Wolverhampton. 
The photo shows barbed wire in front of the Hindenburg Line, near Bellicourt, 4 October 1918.  This photo was taken six days after the British broke through the Hindenburg Line, and the depth and density of the belts of barbed wire is clear. The senior artillery officer in the sector noted that the artillery had not done enough against the barbed wire to clear the way for an attack, and if it had not been for the much lower morale of the German infantry the British would not have won the battle.
The meeting starts at 19:45 but doors open at 19:15 giving attendees the chance to browse the collection of Great War books for sale.
Members of The Western Front Association and non-members are equally welcome. We ask for a modest £3 donation on the door.  This includes tea, coffee and biscuits at the break (before the Q&A session with the speaker). There is a book raffle and books about the Great War are usually available for sale.
New visitors will be assured of a welcoming and friendly atmosphere among a group of like-minded enthusiasts.
Image © IWM (Q9382.)
Cobham Day Centre, Lushington Drive, Cobham, Surrey KT11 2LY, UK
21 Feb 2018 19:45