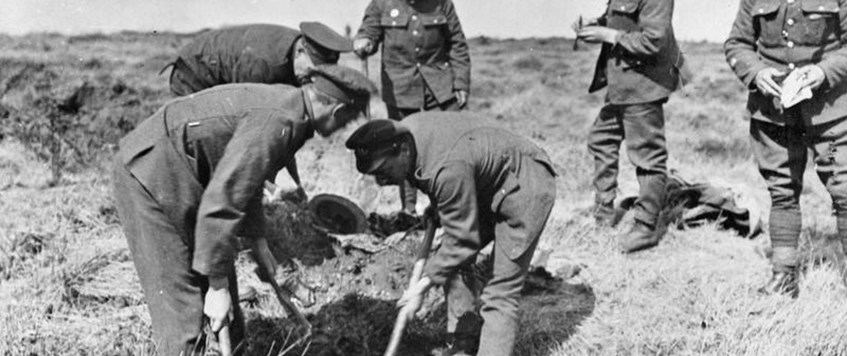 There is currently considerable interest in battlefield archaeology. Between the wars, however, a process similar to modern archaeology was carried out to attempt to unearth the missing and bury them properly in IWGC cemeteries. How was this done? Who did it? What were their experiences?
Dr Peter Hodgkinson talks about the huge effort required after the war to try and recover and identify the dead soldiers, and the organisation of the teams that scoured the battlefields and carried out the exhumations.
Members of The Western Front Association and non-members are equally welcome. We ask for a modest £3 donation on the door.  This includes tea, coffee and biscuits at the break (before the Q&A session with the speaker). There is a book raffle and books about the Great War are usually available for sale.
New visitors will be assured of a welcoming and friendly atmosphere among a group of like-minded enthusiasts.
The meeting starts at 7.45pm.  Doors open at 7:15pm.  Come early to browse the books for sale and to chat about the Great War with other attendees.
The photograph shows a grave registration squad at work. IWM  Q100913 © Jeremy Gordon-Smith.  Photographer Ivan Bawtree.
Cobham Day Centre, Lushington Drive, Cobham, Surrey KT11 2LY, UK
20 Feb 2019 19:45