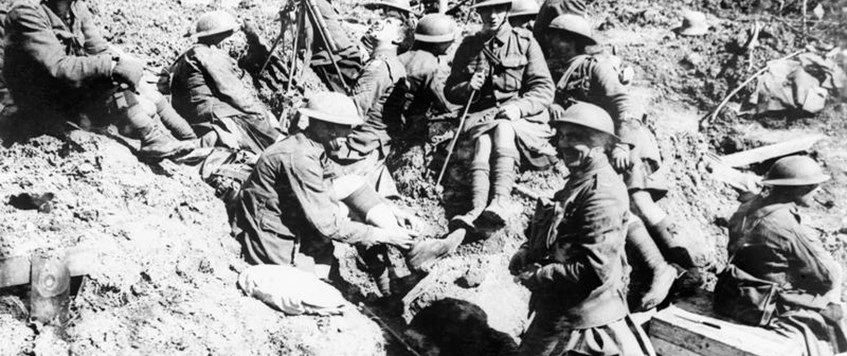 The events of April 1917 in the Arras area are often side-lined as those interested in the Great War concentrate on The Somme and Passchendaele but the Battle of Arras was, proportionately, the bloodiest battle fought by the British Army during the war. The casualty rate was higher than any other action, a statistic overlooked because it was a relatively short compared with the events of 1916 or the summer and autumn of 1917.   With the Canadians fighting at Vimy, the Scots on the Scarpe, the Newfoundlanders at Moncy and the Australians at Bullecourt, the battle began brilliantly.  However, the spectacular success in the opening phase was followed by the usual pattern of attrition and stalemate.  John will explain what happened.
Dr John Peaty is a Fellow of the Royal Historical Society and of the Royal Geographical Society. He holds a PhD and MA in War Studies from King's College London.  He has published articles and essays and lectured widely on military history.  A committee member of the British Commission for Military History, he has responsibility for liaising with groups involved with the maintenance of our military heritage.
Members of The Western Front Association and non-members are equally welcome. We ask for a modest £3 donation on the door.  This includes tea, coffee and biscuits at the break (before the Q&A session with the speaker). There is a book raffle and books about the Great War are usually available for sale.
New visitors will be assured of a welcoming and friendly atmosphere among a group of like-minded enthusiasts.
The meeting starts at 7.45pm.  Doors open at 7:15pm.  Come early to browse the books for sale and to chat about the Great War with other attendees.
Members will be aware that the August meeting was to have been a presentation by Charles Messenger on the Battle of Amiens which was fought in August 1918 and the 100 Days that ended the war.  Sadly, illness caused Charles to withdraw from the programme and all involved with the WFA were greatly saddened to hear of his death in March. Charles was an outstanding supporter of the WFA and one of the best speakers on the circuit. He wrote over 40 books on the Great War and was a leading authority on tank warfare. He Is sadly missed.
 The image shows troops of the Gordon Highlanders resting outside Tilloy-les-Mofflaines on their way to the front in May 1917 © IWM (Q5222)
Cobham Day Centre, Lushington Drive, Cobham, Surrey KT11 2LY, UK
21 Aug 2019 19:45