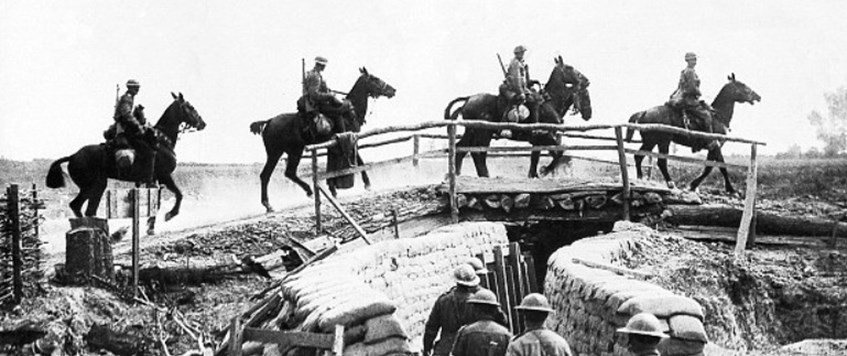 Nick Howgill will give a presentation on the use of cavalry by Gough during the German Spring Offensive of 1918. 
On 21 March 1918 the Germans launched the first of their so-called "Spring Offensives", Operation Michael, against the British Fifth and Third Armies, holding the southern end of the British front in France.  A substantial part of the reserves available to Fifth Army were the three remaining cavalry divisions.  Nick's talk will look at how the cavalry had evolved by 1918, what their condition was prior to the offensive, and how they were used as part of the Fifth Army defence.  He will seek to explain their actions, to what extent they contributed to success or otherwise of the defence, and whether their success or otherwise provided pointers for the future.
We have been informed that our regular venue, the Cobham Day Centre, will not be available for our March meeting as the centre has to have a new boiler fitted and the building will be out of commission for a week. We have therefore had to rearrange the meeting and it will now be held at:
The Park Room
Leatherhead Golf Club
Kingston Road,
Leatherhead, Surrey
KT22 0EE
01372 843 966
Leatherhead Golf Club is just off junction 9 of the M25.  Car parking is free and the bar opens at 19:00.  Come early and browse the collection of Great War books for sale.  The meeting will start at the usual time of 19:45.  We apologise for any inconvenience caused and we will return to Cobham for the April meeting.
Members of The Western Front Association and non-members are equally welcome. We ask for a modest £3 donation on the door.  This includes tea, coffee and biscuits at the break (before the Q&A session with the speaker). There is a book raffle and books about the Great War are usually available for sale.
New visitors will be assured of a welcoming and friendly atmosphere among a group of like-minded enthusiasts.
The Park Room, Leatherhead Golf Club, Kingston Road, Leatherhead, Surrey KT22 0EE
21 Mar 2018 19:45