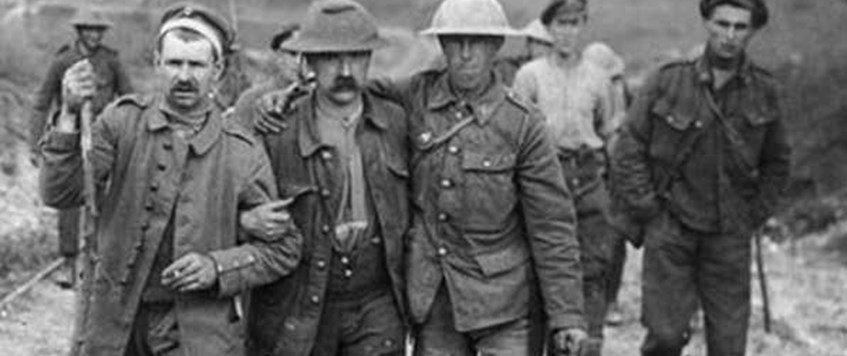 Meeting the Enemy by Richard van Emden
Richard tells the story of what happened when Britain and Germany - nations with long-established ties of culture and friendship - clashed on both the Western and the Home Fronts during the Great War. From the first British casualty of the war, an elderly language teacher mortally wounded as he attempted to leave Germany, to the account of the only British prisoner temporarily released by the Kaiser to visit his dying mother, Richard has unearthed remarkable human stories of two peoples divided by war. From the story of how British prisoners of war were sent to work in the Russian snow, to the raising of the 'Kaiser's Own', two British battalions of English born children of German extraction, Richard touches on stories that have never been told before.
Richard has interviewed over 270 veterans of the Great War and has written twelve books on the subject including The Trench and The Last Fighting Tommy.  He has also worked on more than a dozen television programmes on the First World War, including Prisoners of the Kaiser, Veterans, Britain's Last Tommies, the award-winning Roses of No Man's Land, Britain's Boy Soldiers, A Poem for Harry, and most recently, War Horse: The Real Story.  His latest book is The Quick and the Dead.
Please note that Richard's talk is not the one listed in the Surrey Branch 2018 flyer.  Richard will now be giving that talk at the Surrey Branch seminar in November.  See the Branch News section for details.
Members of The Western Front Association and non-members are equally welcome. We ask for a modest £3 donation on the door.  This includes tea, coffee and biscuits at the break (before the Q&A session with the speaker). There is a book raffle and books about the Great War are usually available for sale.
New visitors will be assured of a welcoming and friendly atmosphere among a group of like-minded enthusiasts.
Doors open at 19:15 and the meeting starts at 19:45.  Come early to browse the books for sale or to chat about the Great War.
Cobham Day Centre, Lushington Drive, Cobham, Surrey KT11 2LY, UK
16 May 2018 19:45