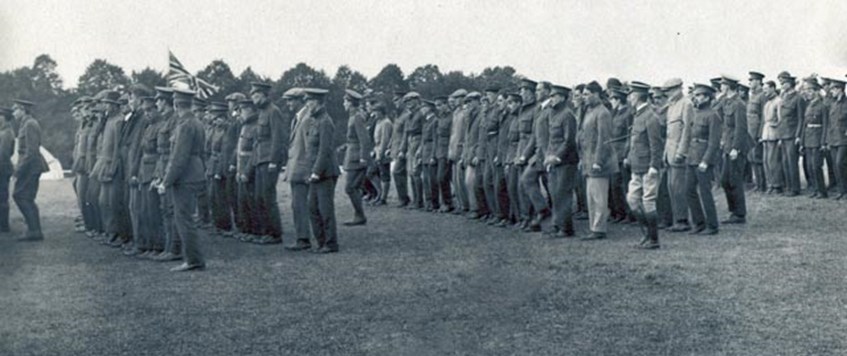 David Walsh's talk on 'Public Schools and the Great War' is based on his book of the same title, published by Pen and Sword in 2013 and co-written with Sir Anthony Seldon. The illustrated talk looks at the impact of the war on public schools at home and abroad, their staff and alumni, recounts many stories to describe their experiences and analyses the key contribution made to the national war effort. It also looks at how the war affected survivors and the many ways in which schools commemorated their war dead.
David Walsh read history at Oxford University, where he was also a cricket blue, and taught for most of his career at Tonbridge School (Kent), retiring as Deputy Head in 2009. His writings include a book about Tonbridge School and the Second World War, and he is currently researching a book about public schools and that war. He lives near Oxted.
Members of The Western Front Association and non-members are equally welcome. We ask for a modest £3 donation on the door.  This includes tea, coffee and biscuits at the break (before the Q&A session with the speaker). There is a book raffle and books about the Great War are usually available for sale.
New visitors will be assured of a welcoming and friendly atmosphere among a group of like-minded enthusiasts.
The meeting starts at 7.45pm.  Doors open at 7:15pm.  Come early to browse the books for sale and to chat about the Great War with other attendees.
Please note that this talk is a change from the one listed in the Surrey Branch Programme flyer for 2018.  Charles Messenger's talk on the Battle of Amiens will now take place in 2019.
The photo shows recruits to No.2 Public Schools Special Corps on Epsom Downs.  Image source: Bourne Hall Museum.
Cobham Day Centre, Lushington Drive, Cobham, Surrey KT11 2LY, UK
15 Aug 2018 19:45