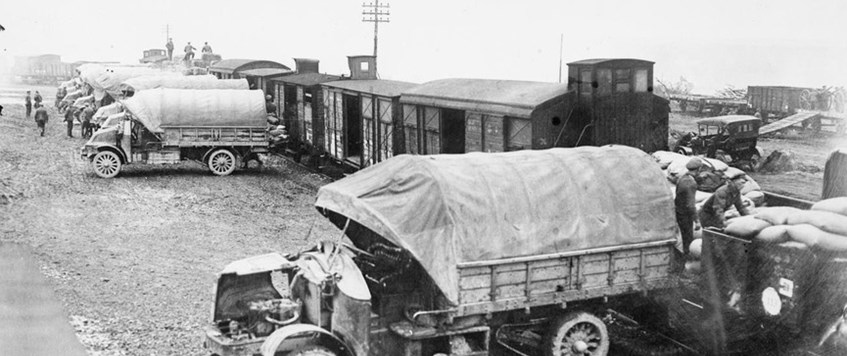 Repair and Maintenance on the Western Front by Roy Larkin
The British army had just 200 motor lorries in 1914 and the supply corps depended on the GS Wagon, pulled by two horses, to keep the army on the move and supplied in the field.  As the army expanded during the war the number of motor vehicles increased accordingly and by 1918 there were some 35,000 motor lorries and a similar number of cars, ambulances and other vehicles.
Roy's talk will illustrate how the army organised its vehicle repair and maintenance operation throughout the war in order to keep this vast fleet operational.
Roy has a website for Great War vehicle enthusiasts: www.historicroadways.co.uk and his book "Destination Western Front" tells the story of London's omnibuses during the Great War.
Members of The Western Front Association and non-members are equally welcome. We ask for a modest £3 donation on the door.  This includes tea, coffee and biscuits at the break (before the Q&A session with the speaker). There is a book raffle and books about the Great War are usually available for sale.
New visitors will be assured of a welcoming and friendly atmosphere among a group of like-minded enthusiasts.
The meeting starts at 7.45pm.  Doors open at 7:15pm.  Come early to browse the books for sale and to chat about the Great War with other attendees.
Image © IWM (Q 10450)
Cobham Day Centre, Lushington Drive, Cobham, Surrey KT11 2LY, UK
20 Jun 2018 19:45