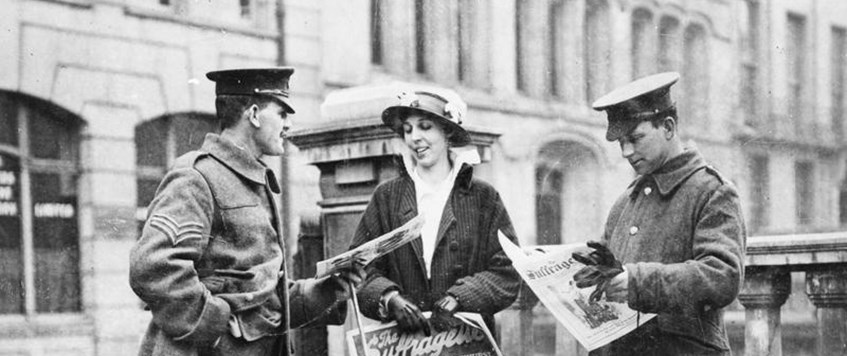 It is well known that on the outbreak of war Mrs Pankhurst called a halt to the militant 'suffragette' campaign and turned her energies to recruiting. It is less well known that many of her supporters were not happy with that unilateral decision. Attitudes to the war varied enormously amongst the militant (and non-militant) campaigners.
Kathy will talk about their reactions to the war and activities during it. Some saw it as confirmation that governance should not be left to men alone and campaigned against it, others turned their energies to supporting the women and children whose lives were devastated by war; some gave up all thought of the vote for the duration.
Many sought ways to support the war effort which also promoted their cause within their communities and nationally - leading so some very interesting initiatives, the most famous of which were the women's war hospitals, run by and staffed women who had been in prison before the war, and whose services were initially declined by the war office.
Kathy is the author "Suffragettes, Suffragists & Antis - the fight for the vote in the Surrey hills".
Members of The Western Front Association and non-members are equally welcome. We ask for a modest £3 donation on the door.  This includes tea, coffee and biscuits at the break (before the Q&A session with the speaker). There is a book raffle and books about the Great War are usually available for sale.
New visitors will be assured of a welcoming and friendly atmosphere among a group of like-minded enthusiasts.
The meeting starts at 7.45pm.  Doors open at 7:15pm.  Come early to browse the books for sale and to chat about the Great War with other attendees.
Please note that this talk is a change from the event listed in the Surrey Branch Programme flyer for 2018.   The visit to Brookwood Military Cemetery will now take place on Saturday September 8th at 10:30am.  See the separate event listing for the full details.
The photo shows a female women's rights activist handing out the Suffragette newspaper to British servicemen, 16th April 1915 © IWM (Q 107103)
Cobham Day Centre, Lushington Drive, Cobham, Surrey KT11 2LY, UK
19 Sep 2018 19:45