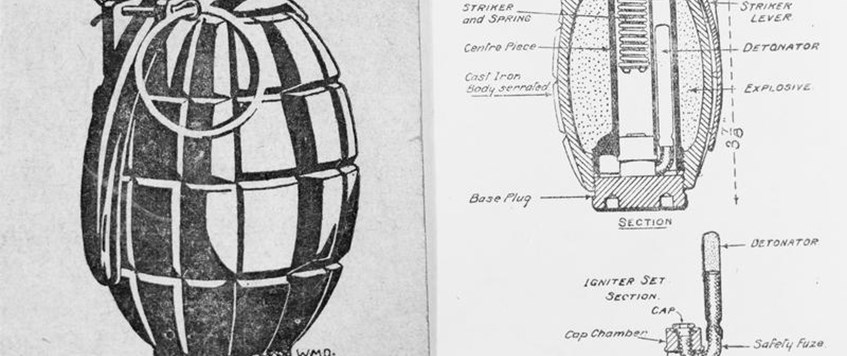 The November meeting is the Surrey Branch AGM.  This normally takes about 20 minutes.  It will be followed by two presentations by Branch members, showing what a wealth of expertise there is among our members and the extent of the personal research that many of us carry out
The three talks this year are as follows:
Grenades in WW1
Graeme Cole explains how grenades were used in WW1 and brings along some examples from his personal collection.   He will outline the rapid development of the Mills bomb and other grenades as the men on the ground responded to the deadlock of the trenches. Members will be able to look more closely at the collection during the coffee break.
Dad's War - A foot solider's memoir of WW1
Phil Sutcliffe talks about his father's experiences as a WW1 Tommy. Foot soldier Sam Sutcliffe enlisted at 16, fought on the front line at Gallipoli 1915, the Somme 1916, and Arras 1918. He starved, he froze, he got shelled and shot at and gassed, and bitten by lice and centipedes. He saw men wounded, dying and driven mad, and to his lifelong regret, he killed. Somehow he stayed lucky, survived and, in his seventies, he finally unleashed his remarkable near-total-recall memory and wrote it all down, toddlerhood to demob. My father had a harsh honesty, strong opinions, a dry-to-sardonic-to-ribald sense of humour and he didn't hold back whether detailing his poverty-stricken childhood in north London, his final fight-to-the-last-man battle on the Western Front, or his view from the trenches of the Poor Bloody Infantry's lead-from-the-rear commanders. He gives the facts as he sees them – and his feelings still deep in his soul down all the decades. Just through one pair of eyes, as he always emphasises; no historian, just a boy who left school at 14 and lived it and, eventually told it.
Mark Kent: Viewing the Western Front through the lens of a 1914 camera.
"This book, hand-crafted by myself, documents my journey as a battlefield tour photographer with the Western Front Association Surrey branch from 2012 to the present day; retracing the steps of the soldiers that fought and died here. The images in this publication have been organised by date and location of each individual tour with a quote from a soldier - dividing the chapters and adding context to each chapter in a few poignant and harrowing words. Additionally, the photographs have been produced by both digital and film cameras including the Kodak Vest Pocket - a camera that soldiers took with them in the early years of the war. This body of work pays homage to all those involved in the conflict; to creatively and respectfully exhibit and represent their sacrifice - a sacrifice to be perpetually remembered."
Members of The Western Front Association and non-members are equally welcome. We ask for a modest £3 donation on the door.  This includes tea, coffee and biscuits at the break (before the Q&A session with the speaker). There is a book raffle and books about the Great War are usually available for sale.
Any new visitors will be assured of a welcoming and friendly atmosphere among a group of like-minded enthusiasts.
The meeting starts at 7.45pm.  Doors open at 7:15pm.
The picture shows a Mill's hand Grenade No.5 Mk 2 © IWM (Q 65497)
Cobham Day Centre, Lushington Drive, Cobham, Surrey KT11 2LY, UK
21 Nov 2018 17:45