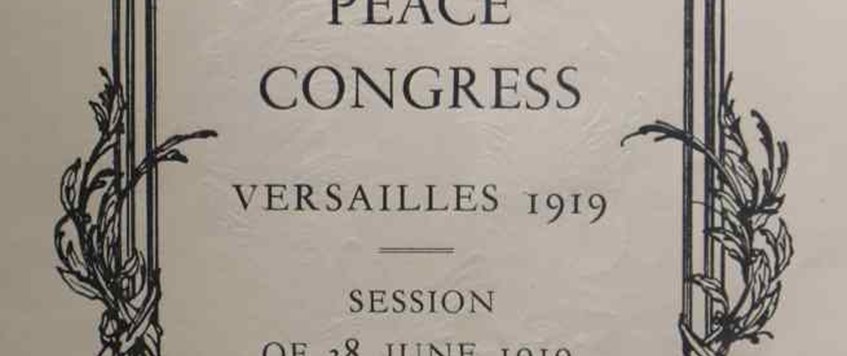 One hundred years later, almost to the day, Alan will describe how, on the 28th June 1919, on the fifth anniversary of the assassination of Archduke Ferdinand in Sarajevo, the five allied powers required German representatives to sign their dictat of how the peace would proceed.
Members of The Western Front Association and non-members are equally welcome. We ask for a modest £3 donation on the door.  This includes tea, coffee and biscuits at the break (before the Q&A session with the speaker). There is a book raffle and books about the Great War are usually available for sale.
New visitors will be assured of a welcoming and friendly atmosphere among a group of like-minded enthusiasts.
The meeting starts at 7.45pm.  Doors open at 7:15pm.  Come early to browse the books for sale and to chat about the Great War with other attendees.
The image shows the copy of the Treaty in the museum in the Forest of Compiegne.  The photo was taken during the Surrey Branch tour in 2018.
Cobham Day Centre, Lushington Drive, Cobham, Surrey KT11 2LY, UK
17 Jul 2019 19:45