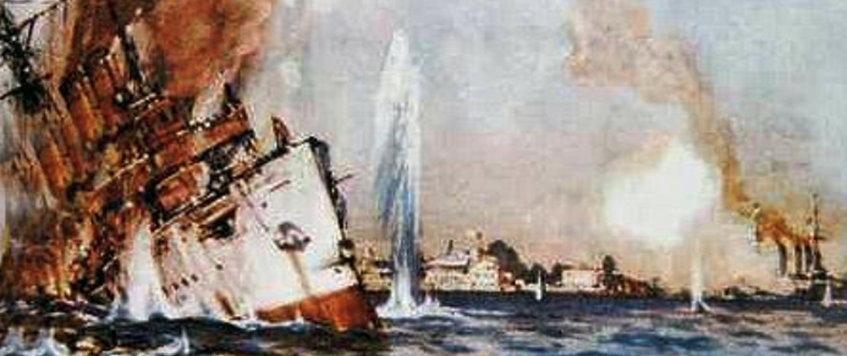 A presentation by Kevin Patience.
This is the story of an outdated British cruiser undergoing repairs in Zanzibar on the east coast of Africa on 20 September 1914, and a Devon born lad James Hancock who as a Stoker aboard the ship was killed in action when the ship was shelled and sunk by the German cruiser Konigsberg.  
This was one of the Royal Navy's earliest warship casualties of the First World War and its loss was carefully shielded from the general public and the striking of the ship's colours by the Captain was denied by the Admiralty and the ships crew sworn to extreme secrecy. The resultant publicity by the Admiralty in the press and publications covered up the whole sorry saga of an incident that could have had far reaching political repercussions. 
Hancock's medals came to light and Kevin spent ten years researching the extraordinary story behind the Pegasus sinking, the cover up, and that of a young lad born of odd parents originally buried in Zanzibar and now lying in Dar es Salaam, Tanzainia.
Kevin Patience is a branch member and an excellent speaker who is in The Western Front Association speakers' list, he has been giving talks for over 30 years on many topics and is Ex RAF and a former commercial Salvage Diver.
Pimperne Village Hall, Newfield Road, Pimperne, Dorset, DT11 8UZ, UK
07 Sep 2019 14:00