The Königsberg was the first of a new class of 3,000 ton light cruisers named after famous cities in Germany. Built at Kiel and commissioned in 1907, she was a fast well armed vessel designed to protect Germany's interests in foreign parts. She was sent to German East Africa  under the command of Fregattenkapitän Max Looff and arrived in Dar es Salaam in June 1914. Within a matter of weeks the world was at war and the cruiser became a raider on the East African coast. A major failure of one engine saw her take refuge for repairs in the Rufiji River delta, a hundred miles south of Dar es Salaam. Before repairs could be completed she was located by the Royal Navy and blockaded in the delta. This is the story of the ship which has become famous through the books of CS Forester and Wilbur Smith.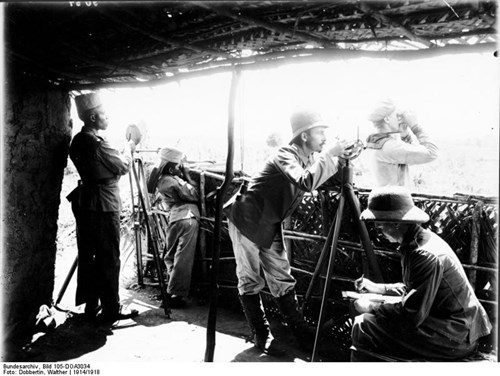 Above: A German artillery observation post, part of the land defenses set up around Königsberg in the Delta. (Bundesarchiv, Bild 105-DOA3034 / Walther Dobbertin / CC-BY-SA 3.0)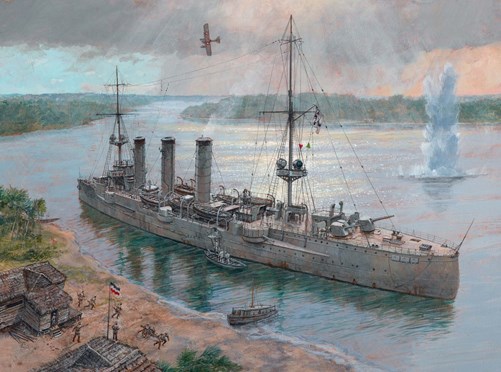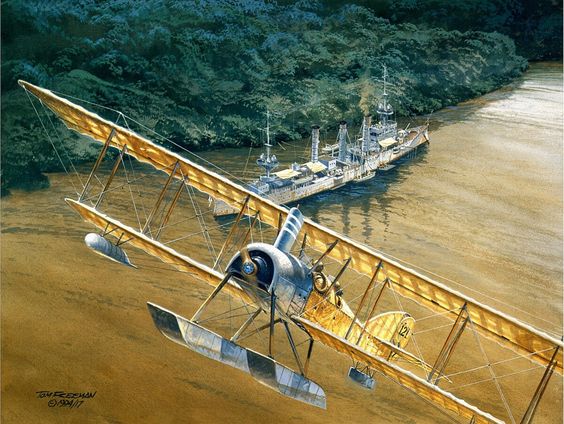 Above: Two paintings showing the attack on the Konigsberg
Refreshments are served after the talk, which enables visitors to prepare for the question and answer session, which are always interesting and draw out further details from the presentation.
Members and non-members of The Western Front Association are equally welcome. Any new visitors are guaranteed a friendly atmosphere and a warm welcome from a group of like-minded enthusiasts.
Manor Academy, Millfield Lane, Nether Poppleton, York, YO26 6PA
(Peter Palmer) 01274 642907
16 Feb 2019 14:30