In Between 2 and 7 September 2020 we are planning a branch trip to Gallipoli  (this is a re-schedule of the trip that was originally planned for May 2020)
The trip will be run under the auspices of Battlehonours Ltd with Clive Harris leading the party. 
This tour offer a series of walks covering not only the more familiar aspects of the campaign, it will delve deeper to access areas not usually visited by tour groups.

This will be conducted at a relaxed pace and with scope to make personal visits and offers a comprehensive study of the Gallipoli campaign.
There are a number of walks which have been carefully chosen to suit people of varying degrees of mobility and fitness. There is often the option of visiting sites on a vehicle, alongside Clive Harris.
Local historian Adem Bicer from the university of Canakkale will be joining us throughout.  This tour, as part of a like minded small group, will enable us to reach seldom visited spots via mule tracks, dried up gullies and quiet beaches.  

Whilst this is a walking tour the distances are not excessive, the average day involves around 6/7 miles over undulating ground but at a pace to suit the needs of the group.
 
The base will be in the Grand Anzac Hotel in Canakkale. This is a charming boutique hotel with well equipped rooms with A/C, WiFi , TV en-suite bathrooms and bar facilities.
The trip will be on a Bed and Breakfast basis, with all lunches included (evening meals not included) 
Below is the detailed itinerary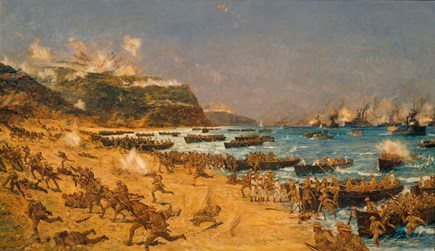 Day 1
Scheduled flights from Manchester to Istanbul. (Clive will meet the group on their arrival) Transfer to Gallipoli by coach to the Hotel Grand Anzac in Canakkale.

This is a 5 hour transfer on a fully air-conditioned coach. We will stop off for a short snack/toilet break halfway through the journey. All our transfer coaches have Wifi and complimentary bottled water on board 

Day 2
Morning - Kum Kale - seldom visited by visitors to Gallipoli, we will visit the initial French landing areas, their base camp and a number of Turkish battery positions, cemeteries and memorials on the Asian coastline. We also follow in the footsteps of Eric 'Kipper' Robinson VC and the Naval Raiding Parties. We see how he led an audacious assault on the Turkish gun battery at Orkanieh (also known as Achilles' Tomb), a position between Kum Kale and Yeni Shehr on the southern shore of the Dardanelles. The position had resisted previous bombardment from the Royal Navy and a 'commando' style raid was suggested by Roger Keyes, Robinson, an old colleague accepted the task without hesitation. We will see where the parties sheltered landing took place before they came under fire from Turkish sniper fire and end on the site of the battery itself where tangible evidence remains from the action 26 February 1915. 
Green Walk - 3/4KM - Along dirt tracks and crossing field boundaries, we encounter tall sharp grass and occasional descents & climbs, undulating ground through out.  

Lunch taken at a local café

Afternoon - Helles - Starting atop Achi Baba and its viewing platform we visit Cape Helles including Lancashire Landing and V Beach as well as  unhurried time to visit  the magnificent Helles memorial to the missing. After visiting to the isolated grave of Lt Colonel Doughty-Wylie VC we explore Morto Bay, scene of the 2/South Wales Borderers landing, the French Cemetery and the old French battlefield cemeteries and memorials near Zimmerman's Farm. 

Day 3
Morning – A boat trip from Gaba Tepe to Anzac Cove offers an unforgettable view of the Anzac Landing areas before we walk from the entrance to Shrapnel Valley onto Russell's Top - This newly opened pathway, courtesy of the Gallipoli Site Directorate, enables us to walk from the Anzac rear areas up to firing lines in and around the Nek and Baby 700 as never before. 
Amber Walk - 3/4KM - Though a short walk, its a fairly continuous climb, it does involve walking along drops and crossing overgrown gullys and animal tracks.
 
Lunch will be taken at a local cafe 

Afternoon - Hill 60 Walk, starting at the cemetery & memorial, this walk covers the perimeter of the Hill 60 sector providing us with a far greater understanding of  the topography and nature of the fighting in this sector, locations named West Ham Gully, Carisbrooke Castle, Upton Park & the Broadway leave evidence of the 54th (East Anglian) Division troops that held this area through the autumn of 1915. Rarely visited much evidence of the campaign remains with trenchlines and sangers still very visible during the walk. 
Green Walk - 3/4KM - Along dirt tracks and crossing field boundaries, we encounter tall sharp grass and occasional descents & climbs, undulating ground through out. 

Day 4
Morning -  A beautiful walk in the remote area of North Anzac. Leaving Embarkation Cemetery, we follow the path of Monash's brigade through the notorious Taylor's Gap and into Agyhl Dere. From there we ascend onto Damakjelik Spur, passing Australia Valley and Cheshire Ridge, before ending day studying the actions of Hill 60.
Green Walk - 3/4KM - Along dirt tracks and crossing field boundaries, we encounter tall sharp grass and occasional descents & climbs, undulating ground through out. 

A Packed Lunch will be taken near to Lala Baba CWGC 

Afternoon - Starting at Nibrunesi Points we follow the initial landings of the new Army Troops as they assaulted up Lala Baba and approached the Salt Lakes and beyond. We then explore Scimitar Hill and Green Hill as we look at the last great attack of the Gallipoli Campaign. We end with a visit to Turkish gun lines at Anafarta and a small local museum.    

Day 5
Morning – The Krithia Sector- joining up Twelve Tree Copse, the Redoubt and Skew Bridge, our walk charts the front line from June through to the withdrawal. Exploring the Vineyard area we follow the locations held by the 29th, 42nd (East Lancs), 52nd (Lowland) and Royal Naval Division throughout the campaign.      
Green/Amber Walk - 3/4KM - Fairly flat ground but does forge the Krithia Nullah and the walk is frequently exposed to the sun.  

Lunch will be taken at a local cafe

Afternoon -  Kiretch Tepe Ridge - A dramatic walk starting at the site of General Stopfords HQ at Suvla, we climb onto the ridge passing Kidney Hill, Jepsons Post and the Pimple before walking onto the Gendarme Memorial. The views from Kiretch Tepe are unrivalled and no true understanding of the campaign can be grasped without a thorough study of the Suvla Bay are. Something this strenuous but greatly rewarding walk provide. 
Red Walk - Along goat tracks, contour lines and over open broken ground, some parts overgrown, this steady climb with drops either side.

We end our tour with a very special visit to the excellent Suvla Winery. 

Day 6
Return to Manchester via Istanbul (but with optional extra days at Istanbul - these not included in the price)