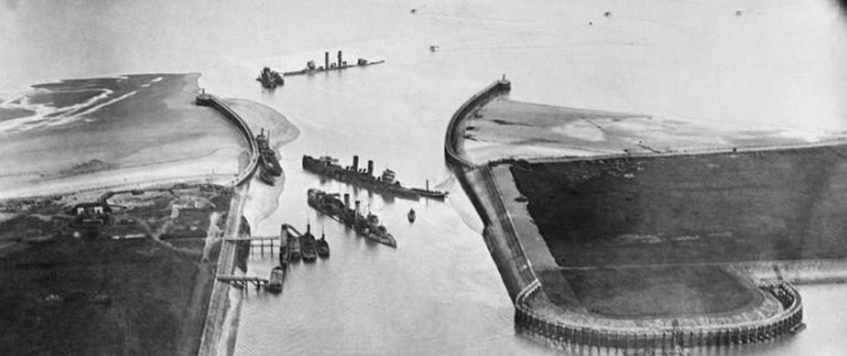 Tuesday 14th May 2019, 3pm-7pm
Keynes College, University of Kent
Join the Gateways to the First World War team for a free event to launch the research findings from our recent project, Zeebrugge: The making of a legend.

In the summer of 2018 a team of volunteers helped to research the profile of the Zeebrugge raid in British popular perceptions of the First World War. Using a wide range of materials, the team discovered how significant it was to many British people in the 1920s and 1930s, and the many different ways in which the raid was interpreted from books all the way through to a piece of early television broadcasting. The findings were written up and presented in a booklet and pop-up exhibition, which will be launched at this event.

As part of the launch, we are delighted to welcome back a great friend of Kent and Gateways, Professor Sophie de Schaepdrijver, who will give a talk on the German occupation of Bruges and Zeebrugge during the First World War.

We will also show the 1927 naval epic, The Battles of Coronel and Falkland Islands. Made by British Instructional Films, the company which also produced Zeebrugge in 1924 (and shown by Gateways last year), The Battles of Coronel and Falkland Islands was a lavish recreation of the two naval engagements of November and December 1914 re-enacted for the cameras by ships of the British Mediterranean Fleet based at Valetta, Malta. The film is fascinating not just for its faithful recreation of the battles, but also for presenting the Germans as honourable and worthy foes who fought gallantly for their country. Such was the impact the film made in Germany, that it was given a premiere at the first convention of European film exhibitors in Berlin in 1928. Digitally restored and remastered in 2014, the film is one of the highlights of British 1920s cinema.

See the full programme and book your place here.

We would be delighted if you are able to attend the full event. However, there is the option when booking to choose to attend either the screening (3pm-5pm) or project launch and lecture (5pm-7pm) only.
Image: The British blockships HMS Thetis, HMS Intrepid and HMS Iphigenia in the mouth of the Bruge Canal at Zeebrugge. © IWM (Q 49164)


Lecture Theatre 1, Keynes College , University of Kent Canterbury CT2 7NP
14 May: Zeebrugge: The making of a legend, Z.Denness@kent.ac.uk
14 May 2019 15:00