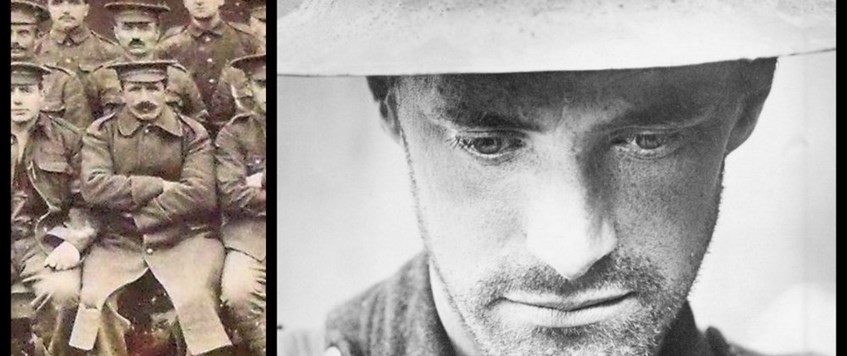 Portrait of a British soldier, taken prisoner by the Germans, probably in April 1918
Programme for the Day
| | |
| --- | --- |
| 9.30 am | Doors Open: Tea & Coffee |
| 10.15 am        | Welcome by The Western Front Association President Peter Simkins |
| 10.20 am | 'Escapes and Escapades? British Prisoners of War during the First World War' : Dr Oliver Wilkinson |
| 11.20 am | 'Shell Shock after the First World War' : Dr. Fiona Reid  |
| 12.20 pm | Buffet Lunch (needs to be pre-booked) |
| 1.20 pm | AGM |
| 2.40 pm | Tea & Coffee |
| 3.05 pm | AGM |
|   |   |
VENUE: RAF Cosford Museum, Shifnal, Shropshire TF11 8UP
'For the avoidance of doubt, the venue for the 2019 WFA Spring Conference & AGM is RAF Cosford Museum not the nearby RAF Cosford Air Base'.
The Honorary Secretary, Steve Oram apologies for any confusion caused.
FREE TO MEMBERS
WFA Car Parking will be free and signs will point to the special area for WFA parking. 
Half hourly trains from Birmingham (Shrewsbury Line) to Cosford Station
10-12 minute walk to venue from the station
Contact Steve Oram to book place + to book optional £15 buffet lunch
secretary@westernfrontassociation.com
Images: Includes Portrait of a British soldier, taken prisoner by the Germans, probably in April 1918. © IWM (Q 24046)
Interview with Professor Peter Simkins 
RAF Cosford, , Shifnal, Shropshire TF11 8UP
27 April: 2019 Spring Conference and AGM RAF Cosford Museum, secretary@westernfrontassociation.com
27 Apr 2019 09:30