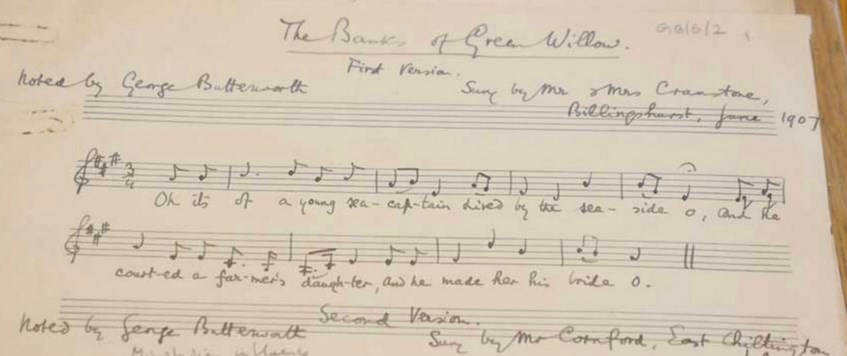 'All My Life's Buried Here', the first documentary about George Butterworth, is premiering at The British Library, London on Saturday 26 January at 2.30pm.
This independent film (duration 97 minutes) tells the remarkable story of Butterworth's life and music, including a close focus on the folk song and dance collecting years, as well as revealing new insights into his more famous pieces such as 'The Banks of Green Willow', 'Rhapsody, A Shropshire Lad', and the song settings from 'A Shropshire Lad'.
George Butterworth was born in London, though the family moved to York where he attended the Aysgarth prep school before gaining a scholarship to Eton and then going up to Trinity College, Oxford. All the while his burgeoning musical talent developed. Enlisting with friends as a private he was soon commissioned. Fighting on the Somme in the summer of 1916 he was killed and buried out on the line on 5 August 1916. 
We follow Butterworth all the way to the Front Line through his letters home, and the memoirs of those who fought alongside him, and the film as a whole provides a welcome opportunity to reconsider Butterworth's music and the important cultural movements he was part of before World War One.
Please see the film's website for an extended trailer, a chance to listen to some of the composer's music and details of the film's impressive line up of participants and musicians > HERE
George Butterworth
The British Library , 96 Euston Rd, London NW1 2DB
'All My Life's Buried Here' a documentary film about George Butterworth, boxoffice@bl.uk
26 Jan 2019 14:00