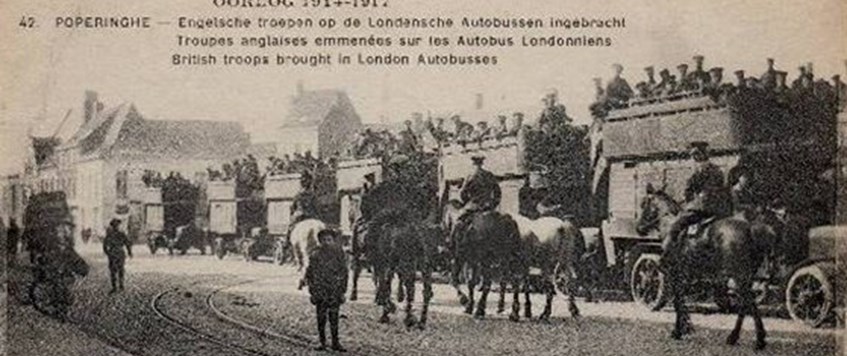 First World War Open Day
On Saturday 6 May the East London Branch of the Western Front Association and Vestry House Museum are presenting a First World War Open Day at Vestry House Museum and St Mary's Church in Walthamstow village.
The event is organised by local historian and WFA member, Malcolm Doolin, on behalf of the WFA and Vestry House Museum and is supported by St Mary's Church, Walthamstow; Leyton and Leytonstone Local History Groups; the Family History Association; local schools; the Commonwealth War Graves Commission and the Royal British Legion; all of whom will be represented.
The day will focus on the local area and there will be opportunities to meet Great War experts and learn about the borough during the Great War. First War soldiers will provide demonstrations and answer questions about life at the Front. Exhibits and archives held at Vestry House will be on display, including copies of the local papers and paintings by Walthamstow war artist, Haydn Mackey, M.M. Bring along your medals so that Antiques Road Show expert Mark Smith can value them. Meet local writers, including Phil Sutcliffe; Steven Jenkins; Alan Simpson; Graham Millington and Malcolm Doolin who will be available to sign copies of their books and talk about their research. Visitors will have a chance to start researching their first war ancestors and The Commonwealth War Graves Commission and the Royal British Legion will explain the work they continue to do for both the dead and the survivors of war. Local schools will report their visits to the Western Front and the Significant Seams project will display their fabric poppies, specially created for the centenary.
Throughout the day there will be talks covering a wide range of topics including the contribution made by local industry with the 'B' type buses which carried troops to the Front; the stories behind the war graves in local cemeteries and of local people's lives at home and at the Front and tribute will be paid to one of Walthamstow's forgotten heroes, local filmmaker, J. B. McDowell, one of the men who filmed 'The Battle of the Somme' which will be shown in Walthamstow on 29 June.
First World War Open Day. Saturday 6 May 2017. 10.00 a.m. - 5.00 p.m.
Visitors can come for all or part of the day.
Vestry House Museum is in Walthamstow village, a short walk from the railway, underground and bus stations. St Mary's Church is a two minute walk from Vestry House.
Admission free.
Refreshments available.
Collections for linked charities.
Vestry House Museum, Vestry Road, Walthamstow E17 9NH
First World War Open Day, londoneastwfa@gmail.com
06 May 2017 10:00