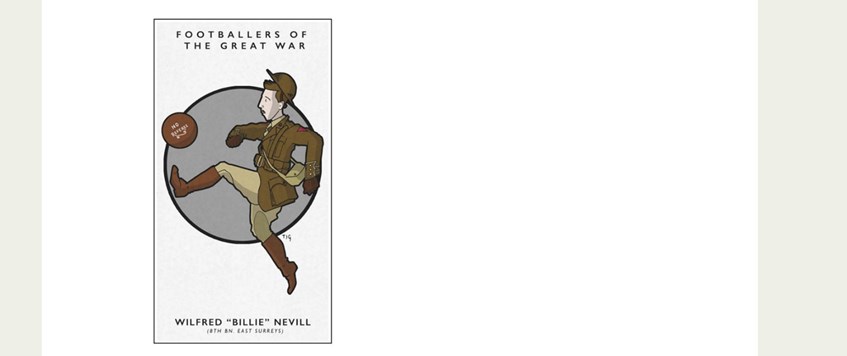 Part of the University of Wolverhampton & Western Front Association Open Public Lecture Series
Monday 6th November 2017
Public Lecture
Monday 6th November 2017
5.30pm – 7.00pm
'Footballers of the Great War: A Cigarette Card Series - the start of something...'
The Presentation and Exhibition are being given by Tim Godden who is an illustrator of the Great War, Football, Baseball and whatever else takes his fancy. He has exhibited in the USA, Belgium and the UK and has worked with a number of clients such as the Commonwealth War Graves Commission, Chiltern Railways, Helion Books and DeCoubertin Books. Tim is also completing a PhD on the Commonwealth War Graves Commission cemeteries on the old Western Front.
Tim says "There were a number of factors that led to me beginning the Footballers of the Great War series, but one of the main reasons was the desire to tell a whole range of stories related to football and the war. The medium of cigarette card design provides such a wonderful platform to tell these stories and the designer in me could not wait to begin the process. A particularly important part of the series for me is the idea of it being a piece of public history."
VENUE
University of Wolverhampton
MC Building, Main Lecture Theatre MC001
Ground Floor, Wulfruna Street,
Wolverhampton, WV1 1LY
ACCESS
To access the MC Building you will need to use either the new entrance next to the Rosalind Frankland Science Building, Stafford Street, WV1 1LZ
The WFA Open Lecture will start promptly at 5.30pm and is expected to finish at 7.00 pm. All the entrances will be staffed all day please explain, if challenged that you are attending the WFA Open Public lecture and register with me upon arrival at the MC Building.
If you would like to attend please RSVP to Sue Holden @ sue.holden@wlv.ac.uk
The venue is a short 8 minute walk from the Wolverhampton train station, the train service is good from all areas. Please see the guide below for local car parks, which are all now open and VERY near the venue. Please note and follow the new route for cars to the Wolverhampton train station. 
MC Building, University of Wolverhampton , MC Building, Wulfruna Street, Wolverhampton, WV1 1LY
Footballers of the Great War: A Cigarette Card Series, sue.holden@wlv.ac.uk
06 Nov 2017 17:30