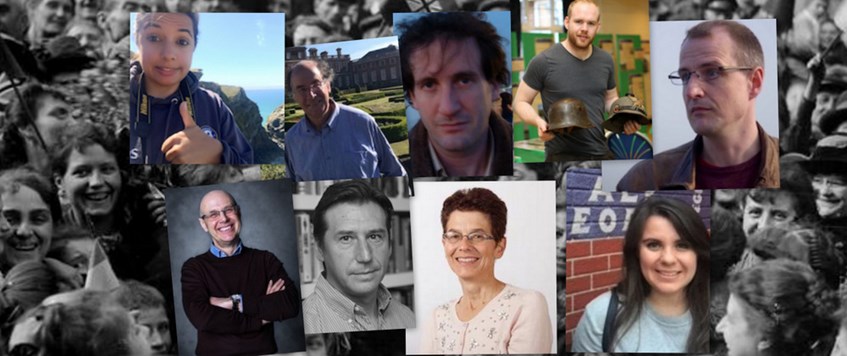 #GreatWar100 brings members of the public together with experts on the First World.
At this free event, there will be a series of fascinating short talks, an extensive, interactive programme for children, the chance to purchase books, collectables and exclusive centenary memorabilia and the opportunity to learn about the work and achievements of the Western Front Association, Herts at War and the Commonwealth War Graves Commission.
Featuring informal talks from Peter Hart, Dr Vivien Newman, Richard Van Emden, Alexandra Churchill, Peter Doyle, Joshua Levine, Phil Weir, Dan Hill and Laura Burkinshaw, #GreatWar100 is a major educational and commemorative event for the Centenary of the Armistice 
The programme for #GreatWar100 will be lead by a number of established Great War historians. Several of these names have become familiar both in print and on television throughout the centenary period 2014-2018.
Peter Hart will describe the dramatic final weeks of the Great War and how Germany's surrender was pressed from a foregone conclusion into reality on 11 November 1918.
Dr Vivien Newman will be talking about 'Singers, Spies and Suffragists'. Not all women filled shells in the Great War. Prepare to be introduced to a formidable array of the fairer sex as they push against long established female/male boundaries.
Richard Van Emden will be talking about his new book: 1918: The Decisive Year in Soldiers Own Words and Photographs. Revisiting diaries and memoirs, and above all original photographs taken on illegally-held cameras by the soldiers themselves, Richard tells the story of 1918.
Alexandra Churchill releases a unique account of the Great War experience with the first authorised biography of King George V in more than 30 years. In the Eye of the Storm: George V and the Great War explores the role of a constitutional monarch in war time and presents a wealth of new material. 
Peter Doyle, author of Remembering Tommy: The British Soldier in the First World War will describe what life was like for Tommy from the time that he enlisted until his demobilisation at the end of the war.
Joshua Levine, author of On a Wing and a Prayer, and Forgotten Voices of the Somme, will give a talk on the pioneers of military aviation and their role in the Great War.
Phil Weir will be giving a talk on the Royal Navy at the end of the war, including the taking of the surrender of the German High Seas Fleet.
Dan Hill will be leading an interactive talk on the war on the Western Front, placing each battle in context, explaining how warfare continually evolved and linking the entire four years of conflict into a single narrative.
Laura Burkinshaw will be speaking about the Dover Patrol, early submarine warfare, and the cat and mouse game that developed from Admiralty attempts to combat this threat using decoy vessels, the top secret 'Q Ships' or 'mystery ships.'
There is much more besides going on around the themes of remembrance, commemoration with opportunities to get involved online by submitting images, and on the day in interactive talks and demonstrations of various kinds. 
Entry to the public areas of the event at the University of Hertfordshire's De Havilland campus in Hatfield is open to all on the evening of Friday 9th November and all day on Saturday 10th.
Childrens' Workshops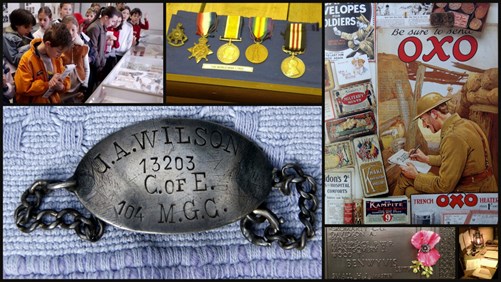 Doors open at 9:00am, Workshops begin at 9:30am.
Hand on History - An Interactive Museum
In conjunction with Herts at War we are thrilled to be able to provide an immersive history experience for our younger attendees with our interactive pop-up museum. Speak to experts, handle artefacts and gain an insight into what it was like to be a soldier in The Great War.
Join the Royal Flying Corps - The James McCudden Flight School
Children will be invited to attend and not only find out all about the life of a pilot in the Great War from Alexandra Churchill, but to see if they have what it takes to join their ranks in this workshop based on genuine recruitment for the RFC in The Great War.
Joshua Levine's Interactive Audio Workshop
Based on his hugely successful book Forgotten Voices of the Somme, Joshua Levine will be holding an interactive workshop for our younger attendees using testimonies of the battle recorded by those who took part. Children will be able to hear about the Somme from the mouths of those who took part in one of the most famous British battles in history and discuss their thoughts with their host.
Go Undercover - Enrol in Spy School
Who doesn't want to be a Secret Agent? We are thrilled to invite our younger attendees to join Dr. Vivien Newman and learn tricks of the trade as they find out all about the lives of the Great War's spies. We could tell you more, but it's top secret, and no grown ups allowed!
The Last Year of the War - Meet Percy
This year Peter Doyle has published a children's book: Percy: A Story of 1918, about the life of Percy Edwards, a young Welshman who was conscripted into the army. We are delighted to offer children the opportunity to sit down with the author and learn all about one teenager compelled to pick up a rifle for the last year of the war.
To access talks and childrens workshops you will need to apply for tickets in our ballot.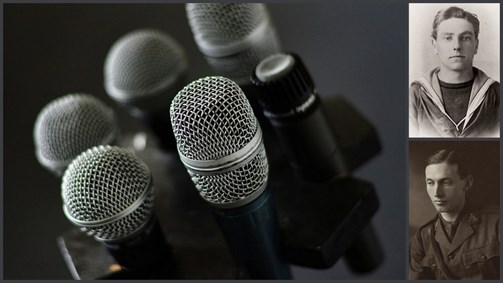 The #GreatWar100 Audio Roll of Honour
As part of the commemoration we want to produce an audio roll of honour to be played through speakers throughout the day at the venue.
To find out how to contribute Click HERE >> The#GreatWar100 Audio Roll of Honour
DATES:
9 November : Evening session, featuring abridged talks and an author Q&A session
10 November : Full length talks, special events for children, bookstore collectable and merchandise
VENUE:
University of Hertfordshire De Havilland Campus, Mosquito Way, Hatfield AL10 9UF
On-site bar and dining available
In association with Herts at War and in aid of Veterans in Action
For details on this exciting event Click HERE > #GreatWar100 
We also still have spaces available for organisations who would like to interact with a captive First World War audience to talk about what they do, whether it be battlefield tours, commemoration etc. We would also welcome any book dealers, collectors, or those offering memorabilia who would like to sell at the event or invite attendees to interact with their collections to get in touch. And of course we are always in need of more volunteers for the event. Volunteers will have the opportunity to attend at least some of the talks and workshops.
Profits will be presented to Veterans in Action, a charity focusing on helping ex-servicemen and women with PTSD.




University of Hertfordshire , De Havilland Campus, Mosquito Way, Hatfield AL10 9UF
FREE EVENT - Remembering The Great War #GreatWar100 : 9 & 10 November, info@hertsatwar
10 Nov 2018 09:00