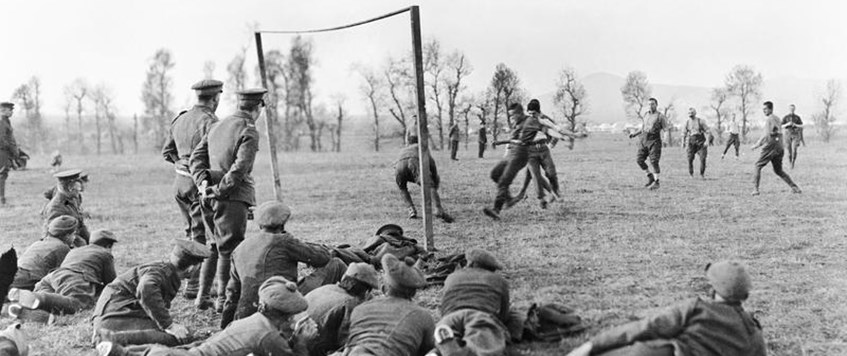 This free event will explore the history of football in the First World War and commemorating the centenary of the Armistice with a football match dedicated to peace.
To mark the hundredth anniversary of the end of the First World War, University of Kent staff will play a football match and officially twin a sports pitch with the Flanders Peace Field in Messines, Belgium.
The match will be followed by a lecture from leading historian of sport, Dr Iain Adams: Football and the British Army in the Great War: Myths and Reality.
We are delighted to welcome Canterbury's MP Rosie Duffield and the University's Vice-Chancellor Professor Karen Cox to the unveiling of the Peace Field plaque.
For the full programme and to book a place visit:  https://footballfirstworldwar.eventbrite.co.uk.
We understand that some people may not be able to attend the whole event, and we are happy for people to attend whichever sessions may be of interest. 
Please indicate when booking which part of the event you plan to attend.
The event is hosted by Gateways to the First World War, the National Children's Football Alliance (NCFA) and Kent Sport, and the twinning of the football pitch is part of the NCFA's international Peace Field project. NCFA will also announce details of their sponsored cycle ride from the University of Kent to Ypres/Ieper, Belgium, on Saturday 23rd March, which will raise money to enable Slum Soccer to send a team of children to the 2019 Global Peace Games.
For further information please contact Dr Zoë Denness at gateways@kent.ac.uk.
IMAGE: Football WWI IWM Q31574 
Sports Pavilion, University of Kent,, Sports Pavilion, University of Kent, CT2 7SR
FREE: 'Football and the British Army in the Great War: Myths and Reality' with Dr Iain Adams : 30 November, gateways@kent.ac.uk
30 Nov 2018 10:00