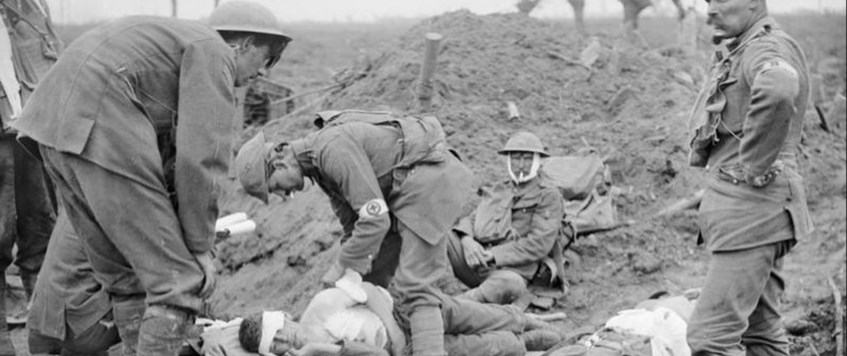 'From No Man's Land to Auxiliary Hospital: The Work of the Royal Army Medical Corps in the First World War' 
Dr Jessica Meyer (University of Leeds)
Public Lecture Wednesday 7th March 2018
5.30pm – 7.00pm
The work of the Royal Army Medical Corps in the First World War has tended to be viewed by historians as progressive with, to paraphrase Roger Cooter, war proving to be good for medicine. This paper will examine the work of the Corps chronologically over the course of the war to explore the extent to which the unit developed along a learning curve equivalent to that experienced by British 'teeth' units, that is, those that bore arms. In doing so, it seek to present a nuanced picture of the effect of the war on cementing the reputation of the RAMC as an esteemed branch of military service.
This is the thirteenth lecture of the University of Wolverhampton/Western Front Association First World War Centenary Lecture Series. Generously supported by a grant from the WFA, the Series is held at the University of Wolverhampton, is open to the public, and will run until the end 2018.
Admission is free; however you are encouraged to register your details in advance with Dr Phylomena Badsey p.badsey@wlv.ac.uk. You will then be notified of forthcoming events in the series.
To find your way to and around the University of Wolverhampton CLICK > HERE 
IMAGE:  A doctor dresses the wounds of Lieutenant Guy Vaughan Morgan of the 2nd Battalion, Irish Guards at a RAMC aid post during the Battle of Pilckem Ridge, 31 July 1917. Lieutenant Morgan is one of several men on stretchers.   © IWM (Q 5732)
University of Wolverhampton MC Building, Main Lecture Theatre MC001 , Ground Floor, Wulfruna Street, Wolverhampton, WV1 1LY.
'From No Man's Land to Auxiliary Hospital: The Work of the Royal Army Medical Corps in the First World War' 7 march 2018, p.badsey@wlv.ac.uk.
07 Mar 2018 17:30