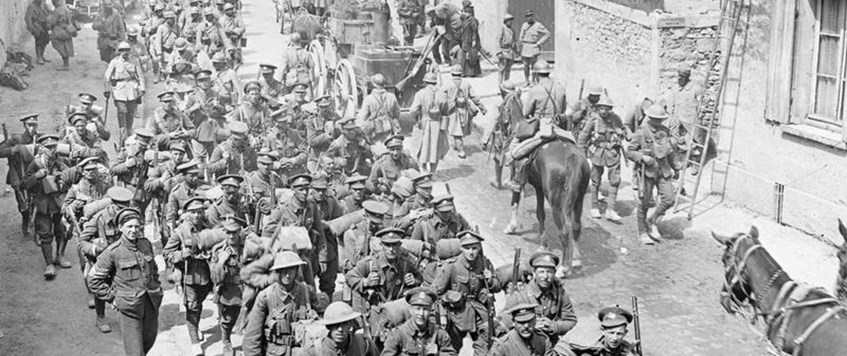 The presentation will be live and online.
When the German onslaught of Operation Michael broke on 21 March, four of the 2nd Line Territorial Force formations held divisional sectors in the forward areas. Distributed across four corps between the Oise and Bullecourt, they suffered from the same ferocious bombardments and at times overwhelming enemy assaults as the other British divisions. By the evening, three of the four were still in possession of much of their Battle Zones; the fourth had withdrawn in accordance with its prepared Defence Scheme. Two 2nd Line divisions recorded the highest numbers of casualties of any of the 19 formations involved in infantry action that day.
When the 2nd Line divisions deployed in 1916 and early 1917 little was expected of them.  The failure of 61st Division at Fromelles seemed to confirm the suspicions of many of their doubters. Although 58th (2/1st London) had fought well on the Gravenstafel Ridge, and others had achieved some minor successes during 3rd Ypres, several of their performances in early encounters had again fostered only limited confidence in their capability. In early 1918 the three 2nd Line divisions in Fifth Army inherited sectors whose defences were hugely under developed. Defence schemes were devised but with labour in short supply their troops had almost incessantly to dig, wire, and construct. In what little time remained they trained according to a doctrine which to them was both unfamiliar and incongruous. The German attack of 21 March was their first test in a defensive role and one which they met with mixed fortunes.
To commemorate the 103rd anniversary of the offensive, Dr Bill Mitchinson will discuss how the four divisions prepared for the forthcoming battle and how well they performed on that tumultuous day.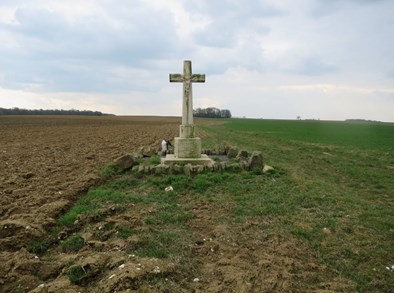 Above: Standing in the Battle Zone of 66th (2nd Lancashire) Division, the cross commemorates Lt.Col.A.L.Wrenford, CO of 4/East Lancashire. Wrenford was killed on 21 March 1918.
Members wishing to participate will need to register: details of how to register will be circulated via the WFA's newsletter 'Trench Lines'. If you are not a subscriber to 'Trench Lines' please subscribe now.
To subscribe to Trench Lines, go to the home page of the WFA web site and complete your details in the 'Newsletter signup' box.
It is also possible to register by clicking this link: Broken reeds: Kaiserschlacht and the 2nd Line Territorials on 21 March 1918
The talk will be undertaken using the 'zoom' software which is freely available. It may not be necessary to load the software to your PC / iPad etc: but we would recommend doing so if you wish to participate in this event.
Your Computer, Your Home
ONLINE: Broken reeds: Kaiserschlacht and the 2nd Line Territorials on 21 March 1918, office@westernfrontassociation.com
22 Mar 2021 20:00