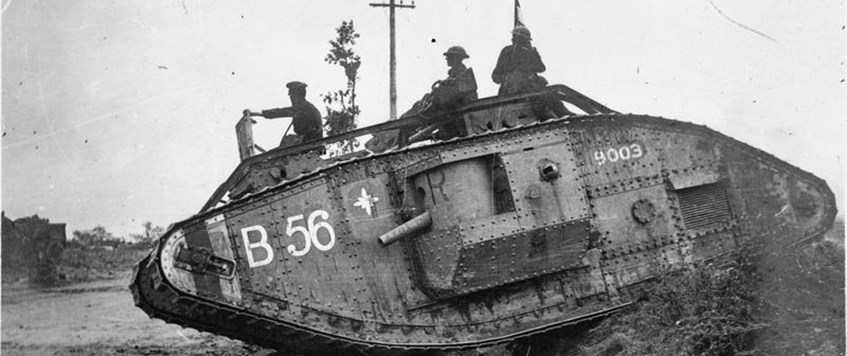 The presentation will be live and online. 
The March Retreat, the German offensive from 21 March to early April 1918, was one of the greatest battles ever fought. In this presentation, Geoffrey Vesey Holt will describe how, on the 21 March, 62 German divisions supported by 10,005 artillery pieces inflicted on the British Army one of its greatest defeats including the loss of 21,000 prisoners.
The 204 tired Mark IV tanks and the 36 new Medium A Whippet tanks, manned by just converted crews, would, given their number alone, not be able to make a decisive contribution. Nevertheless, as this talk will show, and thanks to the surprisingly good Tank Corps records, they did play a useful role. Despite Fuller's later claims Haig and his staff followed HQ Tank Corps doctrine in the deployment of the tanks.
As a result, 2, 3 and 4 Tank Brigades provided useful support to Third and Fifth Armies. This included for example the charge of 2nd Tank Battalion which stopped the Germans from breaking through on 22 March, 8th Tank Battalion preventing the encirclement of two British divisions on 24 March and, on 26 March, 12 Whippets, in their first major action, stopping at the last moment a German break-through and demonstrating the virtues of relative speed.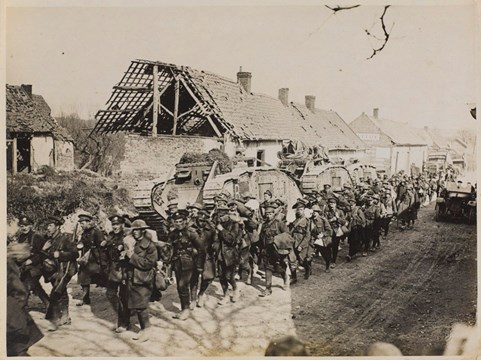 Members wishing to participate will need to register: details of how to register will be circulated via The Western Front Association's newsletter 'Trench Lines'. If you are not a subscriber to 'Trench Lines' please subscribe now. 
To subscribe to Trench Lines, go to the home page of The Western Front Association web site and complete your details in the 'Newsletter sign up' box. 
It is also possible to register by clicking this link: Tank Corps during the German Spring Offensive
The talk will be undertaken using the 'Zoom' software which is freely available. It may not be necessary to load the software to your PC / iPad etc: but we would recommend doing so if you wish to participate in this event.
Please Note : > Once registrations hit capacity (we have a 1000 limit on the webinars) then you won't be able to register. If this happens, you can still watch the event via the Facebook Live Stream (subject to any technical hitches) on our Facebook page. Alternatively, these are loaded to our YouTube channel where they can be watched a few weeks after the event.  
Your Computer, Your Home
ONLINE: Tank Corps operations during the German Spring Offensive of 1918, office@westernfrontassociation.com
06 Dec 2021 20:00