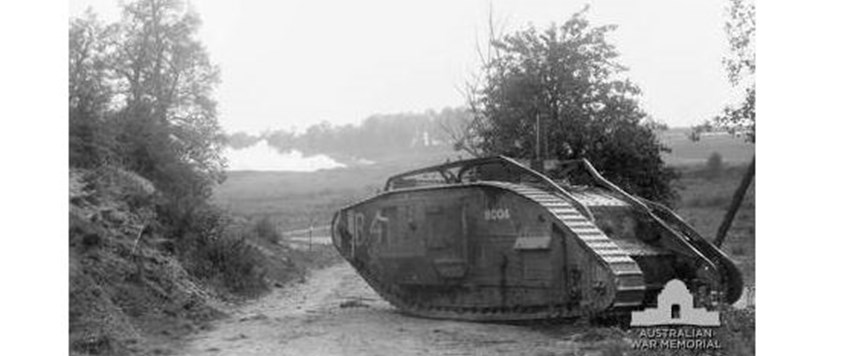 The presentation will be live and online.
The Battle of Amiens was the decisive start of the Allied advance to victory. 462 Mark V and 96 Medium A Whippet tanks and 15 Austin cars played a key role in this victory supported by 142 supply tanks and gun carriers. The role of faster (4.6 mph) and more manoeuvrable Mark V tanks will be illustrated by looking at key actions and personalities along the battle front. The presentation will be given by Geoffrey Vesey Holt. 
This analysis will include, in the north, the 10th Tank Battalion's difficult battle in support of the tired III British Corps. It will look at the 2nd Tank Battalion's hard fought but successful actions in support of the Australians in the centre led by their brave CO who would earn his third DSO. The presentation will also highlight 5th Tank Battalion's initial dash across the River Luce in support of the Canadians to the role of the much faster Whippets (8.2 mph) and armoured cars
We will also look at the advance of the Mark V Star tanks to the final objective which included a rare tank versus rail gun engagement.

Lieutenant Colonel (Retried) Geoffrey Vesey Holt MBE was educated at the Lycée Français de Londres, Durham University and the French Staff College. A career officer in the Royal Tank Regiment (RTR) until 2010, he also served as an instructor and operations staff officer and then on the Challenger 2 (he was awarded the MBE for his efforts), the Multi Role Armoured Vehicle and the convoluted Future Rapid Effect System (FRES) programmes. He has been supporting the RTR's First World War commemorations. He is in the process of writing a two volume of the history of the Tank Corps in 1918. He also runs pro bono battlefield tours and gives numerous lectures.
Members wishing to participate will need to register: details of how to register will be circulated via the WFA's newsletter 'Trench Lines'. If you are not a subscriber to 'Trench Lines' please subscribe now.
To subscribe to Trench Lines, go to the home page of the WFA web site and complete your details in the 'Newsletter signup' box.
It is also possible to register by clicking this link:  The Tank Corps at the Battle of Amiens
The talk will be undertaken using the 'zoom' software which is freely available. It may not be necessary to load the software to your PC / iPad etc: but we would recommend doing so if you wish to participate in this event.
Your Computer, Your Home
ONLINE: The Tank Corps at the Battle of Amiens 8 August 1918, office@westernfrontassociation.com
04 Jan 2021 20:00