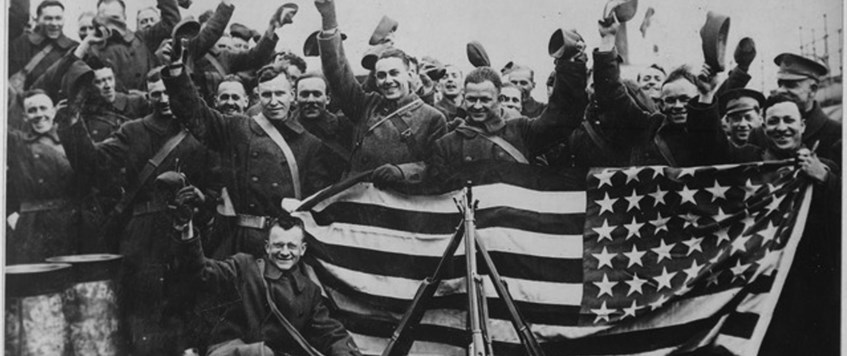 The presentation will be live and online.
When war broke out in 1914 Woodrow Wilson, president of the United States of America declared neutrality. He could do little else: much of the population or its ancestors had left Europe to avoid the seemingly unending internecine warfare there.  In 1916 Wilson was re-elected on a pledge to keep America out of the war (although he himself never said that). 
Nevertheless, almost from Day One the USA helped the British and French war effort in a way that far exceeded the obligations of a neutral, and the slack in American industrial capacity was vital to Britain.  When America did finally enter the war, goaded by a German policy of unrestricted submarine warfare, her army was tiny – only 70,000 strong – she had to create a national army, train it and equip it and get it to Europe. 
This talk describes how the USA prepared from the Western Front and what she achieved when she got there.
Members wishing to participate will need to register: details of how to register will be circulated via the WFA's newsletter 'Trench Lines'. If you are not a subscriber to 'Trench Lines' please subscribe now. 
To subscribe to Trench Lines, go to the home page of the WFA web site and complete your details in the 'Newsletter signup' box. 
It is also possible to register by clicking this link: The USA in the Great War
The talk will be undertaken using the 'Zoom' software which is freely available. It may not be necessary to load the software to your PC / iPad etc: but we would recommend doing so if you wish to participate in this event.
Your Computer, Your Home
ONLINE: The USA in the Great War by Gordon Corrigan, office@westernfrontassociation.com
22 Oct 2020 20:00