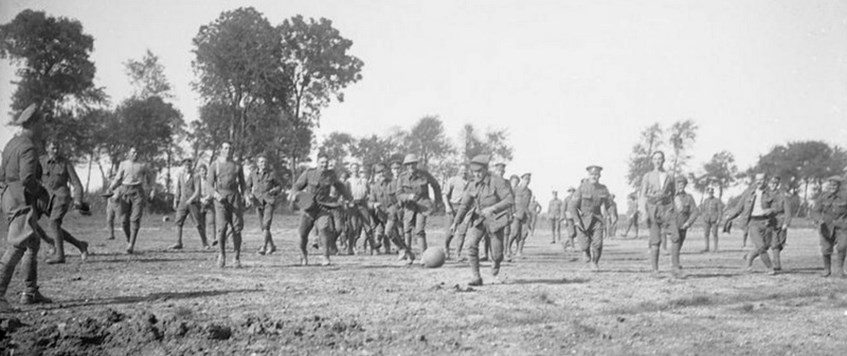 Professor Gary Sheffield, University of Wolverhampton will be giving a talk on 'Sport, Training and Leadership in the British Army in the First World War'
 'This paper examines the role played by sport, especially football, in the British army in the Edwardian period and the First World War. It argues that sport was seen as an important vehicle for building esprit de corps and cohesion, and lowered the barrier between officers and rankers, albeit temporarily. During the War, sport became increasingly important as a means of training, and developing the skills needed for battlefield leadership. This paper locates sport in the wider context of recent scholarship on the British army of 1914-18'.
DATE: 16 Apr 2018
TIME: 17:30 to 16 Apr 2018
VENUE: The Institute of Historical Research, Past and Present Room, N202, Second Floor, IHR, Senate House, Malet Street, London WC1E 7HU
Contact: IHR Reception
Email: ihr.reception@sas.ac.uk
Tel: 020 7862 8740
IMAGES:
Professor Gary Sheffield courtesy of his website > Professor Gary Sheffield
Troops of the 1st Battalion, Wiltshire Regiment, playing football nearing Bouzincourt, September 1916. (C) IWM (Q1108) on the Football and the First World War website created by Iain McMullen. Licensed under a Creative Commons Attribution-NonCommercial-ShareAlike 4.0 International License.
IHR, Past and Present Room, N202, Second Floor, IHR, Senate House, Malet Street, London WC1E 7HU, The Institute of Historical Research, Senate House, Malet Street, London WC1E 7HU
Sport, Training and Leadership in the British Army in the First World War, ihr.reception@sas.ac.uk
16 Apr 2018 17:30