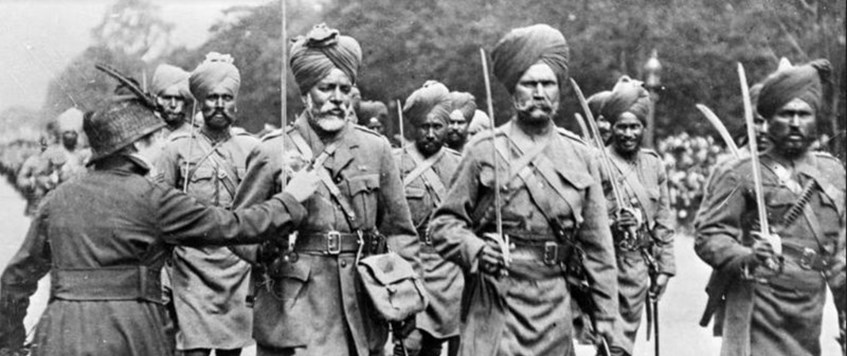 The Indian Army in the First World War - Major Gordon Corrigan MBE
Thursday 8th March 2018, 6pm
A free and open lecture at the University of Kent, organised by the Arts and Humanities Research Council-funded Gateways to the First World War project.
The British Expeditionary Force that crossed to Europe in August 1914 was said, then and now, to be the best led, the best trained and the best equipped body of troops ever to leave these shores. That assessment is probably correct, but it was pitifully small, and while the Territorial Force and the New Armies would make their presence felt eventually, that time was not yet. Then, the only immediate source of trained regular reinforcement was the Indian Army. In September 1914 two Indian infantry divisions and a cavalry brigade landed at Marseilles en route to the Western Front. In a war not their own, being fought in a far-away country, against an enemy about which they knew little, the soldiers of India and Nepal drew upon their skills, training and traditions in their fighting on the Western Front which encompassed of all the major battles of 1914 and 1915, before being redeployed to Mesopotamia in November 1915.
Major Gordon Corrigan MBE was an officer of the Royal Gurkha Rifles before retiring from the Army in 1998. He is now a military historian and the author of numerous books. His television appearances include The Gurkhas, Napoleon's Waterloo and Battlefield Detectives, and so far he has presented five series on various aspects of military history. He is an Honorary Research Fellow of the Universities of Birmingham and Kent, a Fellow of the Royal Asiatic Society, a Member of the British Commission for Military History and a Liveryman of the Worshipful Company of Farriers.​
For further information please contact Zoë Denness at gateways@kent.ac.uk. www.gatewaysfww.org.uk
IMAGE: Stalwarts from the East – a French lady pins a flower on the Sikh saviours of France. Paris, 1916 (Toor Collection). © IWM (Q 70214)  
Grimond Lecture Theatre 1, University of Kent, Canterbury, Kent, CT2 7NZ.
'The Indian Army in the First World War' a presentation by Major Gordon Corrigan MBE 8 March 2018, gateways@kent.ac.uk
08 Mar 2018 18:00