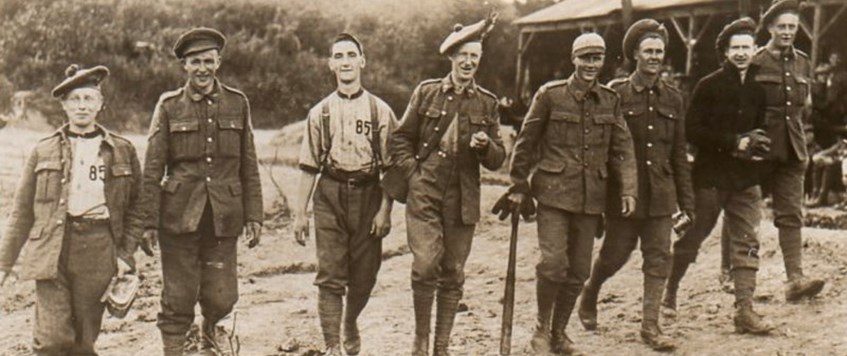 The Western Front Association's 2018 York Conference Saturday 7th July
Tickets will also be available on the door
The programme of talks and the speakers are as follows: 
Tommies in 1918
Taff Gillingham
Taff is a professional military adviser for film, television and theatre. He is one of the foremost authorities on the experience of British soldiers in the Great War. The talk will look at the British soldiers in 1918 and address several key questions:
What was the changing make up of the army and how were conscripted recruits trained to a high standard? How did infantry tactics evolve with greater firepower available? What were the reasons for their success in the final hundred days?
The Battle of the Selle 17-18th October 1918
Dr Peter Hodgkinson
The talk is based on Peter's doctorate supervised by WFA President, Prof Peter Simkins. The Battle of the Selle was a success despite the lack of the 'all arms battle' which was the key to success in other attacks in 1918.  A failure of intelligence meant that artillery, airpower and armour were unable to support the infantry effectively. The talk explains how the infantry fighting a 'soldier's battle' were able to overcome strong German resistance and achieve a remarkable success.
From the Battle of Montdidier to the Battle of Guise - The French Army in the 100 Days Campaign
Dr Tim Gale
Tim has written a book on French tanks and the development of armoured warfare in the Great War and has contributed several chapters on the role of the French army.
The contribution of the French in the Hundred Days campaign is less well known to British audiences. The talk will explain how the French were so successful in this period.
Politics and Strategy in the making of the November 1918 Armistice
Prof David Stevenson
David Stevenson is Professor of International History at the London School of Economics.
The fighting proceeded with no lack of tempo during the weeks of negotiations during October and November and the consent of all the warring powers was needed for an armistice. The talk explains the politics and strategy behind the agreement of the armistice.
DOORS OPEN 09:00
START 09:45 until 16:15
Booking details:
£30 which includes buffet lunch plus tea/coffee.
To book via the website click > HERE 
Or contact The WFA Office: 0207 118 1914
Tickets will also be available on the door 
Manor Academy, Millfield Lane, Nether Poppleton, York, YO26 6AP
'Towards Victory' The Western Front Association York Conference 2018 - 7 July 2018, office@westernfrontassociation.com
07 Jul 2018 09:00