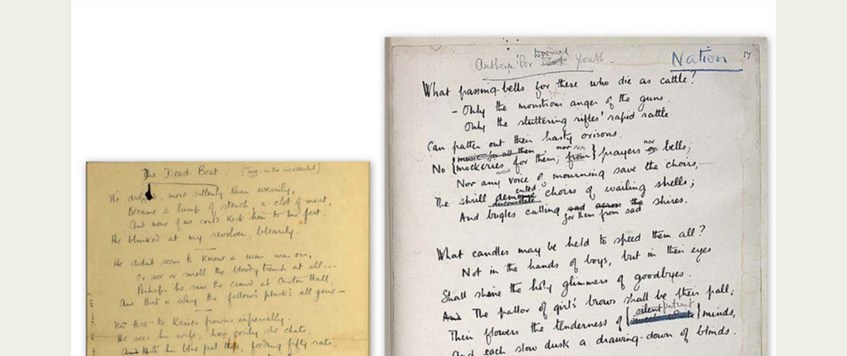 The conference will run from 1 p.m. on Friday 26 October until 12.45 p.m. on Sunday 28 October and there will be five panel sessions, each accommodating the delivery of three twenty-minute papers and a half-hour discussion period (the programme may still be updated before the event).
The conference is being held at Wolfson College, Linton Road, Oxford, OX2 6UD.
It is the only academic conference specifically devoted to Wilfred Owen that has ever taken place.

The event is being sponsored by The Western Front Association and the Wilfred Owen Association.
The Western Front Association's funding has gone to the composition and performance of Tim Watt's composition dedicated to Owen.
The principal organiser is Dr Kate Kennedy is based at the Centre for Life Writing, at Wolfson College. Speakers are coming from across the globe – USA,  Hong Kong, New Zealand, Austria and France, as well as from the U.K. and Ireland.  
As you will see from the titles of the talks below, the idea is to look at where Owen's influences lie today – his legacy if you like.
Friday 26th October
1:00-1:30 Registration and Coffee
1:30 – 1:45 Welcome
1:45 – 2:45 Keynote:  Dr Santanu Das
3:00 – 4:30 Panel One
Professor Elizabeth Vandiver
Whitman College
'Horace After Owen: Reading Dulce et decorum est pro patria mori in the 20th and 21st Centuries'
This paper traces the influence that Wilfred Owen's use of Horace's tag has had on modern understandings of warfare and ancient war literature and argues that Owen's prominence extends beyond simple identification of the phrase as "his"; the view of war that Owen attaches to dulce et decorum est has changed the way modern readers understand not only modern war literature, but also war literature from the classical world. The paper will also examine Owen's wider influence on the assumptions modern readers bring to reading war poetry.
Dr Eva Zettelmann
University of Vienna
'Wilfred Owen and the Cultural Canon'
Viewing Owen's poems as outstanding examples of a special canon of culturally defining texts, this paper examines the cultural meanings of Owen's work and its lasting impact not only on our perception of the First World War but also on common approaches to the genre. The paper attempts to ascertain Owen's position within the culture-specific corpus of canonised texts by tracing the canon's different lines of tradition and competing versions of collective self-image.
Eleanor Mary Boudreau
Florida State University
'They May Be to the Next': Elegiac Consolation After Owen.
This paper contends that Owen's "Preface" only temporarily forecloses consolation, but leaves open the possibility of future comfort. It will examine the proliferation of elegiac sequences post-Owen in the work of AIDS elegists Paul Monette, Mark Doty, and Thom Gunn, aiming to show that Owen's elegies and those of his successors offer twenty-first century readers a new form of elegiac consolation and to describe the source and nature of that consolation.
4:30 – 5:00 Tea
5:00 – 6:10 Panel Two
Dr Brigit Friant-Kessler
Université de Valenciennes
'Illustrating Owen'
Dr Guy Cuthbertson
Liverpool Hope University
'Owen and Biography'
Optional informal supper (pre-booking essential) in Wolfson College Hall 6:30 – 7:30
7:30 Poetry and Dance Performance in Hall
Saturday 27th October
9:15 – 10 Coffee
10 – 11 Keynote: Dr Kate Kennedy
11:15 – 12:45 Panel Three
Professor Marcy L Tanter
Tarleton State University, Texas
'The Legacy of the Present Moment: Barnes, Duffy and Owen'
This paper will discuss the intersection of Davelle Barnes, Carol Ann Duffy and Wilfred Owen to show how the past informs present moments. It will demonstrate how both of these women draw upon Owen's century-old humanity to infuse readers with a modern sense of the pain of war, telling it backward.
Dr Gilles Couderc
University of Caen
'Impersonating Wilfred Owen: the strange case of Xavier Hanotte'
Belgian–born Xavier Hanotte, novelist, poet, essayist and dramatist, brought out in 2012 a new edition of his translations into French of Owen's poetry as well as La nuit d'Ors, The Night at Ors, a « dramatic fantasy in 3 scenes » evoking Owen's last night. This paper seeks to unravel the Doppelgänger relationship between Owen, Hanotte and Barthélemy Dussert, a Brussels police investigator, the hero of Hanotte's early novels and alter ego, involved in the translation of Owen's poetry.
Dr Martin Malone
University of Aberdeen
'Ghost lines and ghost economies of scale': Owen's intra-poetic afterlife
This paper will examine the nature of Owen's intrapoetic afterlife and trace the many ways in which his lines ghost their way into our own. From the Auden generation who were 'too young to go', through to the early collections of Hughes, Heaney, Longley and Hill and on to today's centennial writers, Owen's figure looms large in the poetry of witness. The paper asks how his influence has changed and mutated to meet the needs of successive waves of writers inspired by their exposure to his work.
12:45 – 1:45 Lunch
1:45 – 3:15 Panel Four
Emma Suret
University of Sheffield
'Wilfred Owen and Dylan Thomas: Rhyme and Genre'
This paper will argue that, for Owen and Thomas, manipulation of rhyme and genre represent their poetry deliberately refusing to offer expected bromides, choosing troublingly unfinished half-rhymes or re-writings of the elegy to expose the difficulties of writing poetry. Form and genre become more than conventions to inherit; Owen and Thomas make poetic drama out of the struggle to express meaning in the midst of chaos.
Professor Harry Ricketts
Victoria University of Wellington, New Zealand
'We learn to pity and rebel': Auden's Re-readings of Owen
No concerted attempt has been made to examine the Thirties poets' engagement with Owen's work and its stated agenda. This paper offers one starting point for such an examination. It argues that Auden's "In Time of War" (1938) is, amongst much else, a sustained meditation on the claims in Owen's draft preface about the poet's required response to modern warfare.
Professor Gerald Dawe
Trinity College, Dublin
'Yeats's Owen; Owen's Yeats'
This paper will explore the rejection of Wilfred Owen's poetry by William Butler Yeats with Owen's exclusion from The Oxford Book of Modern Verse, and examine the implications of Yeats's decision while also considering the conflicting aesthetics of Wilfred Owen's poetry of witness and its relevance in subsequent periods of war and social conflict. The paper will ask if there are lessons to be learned from Owen's legacy and if so, how Yeats's forthright rejection of Owen stands today.
3:15 – 3:45 Tea
3:45 – 4:45 Keynote: Dr Jane Potter
4:45 – 6:00 Wine and Cheese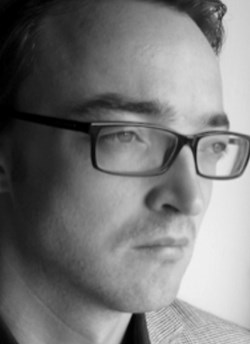 6:15 – 7:45 Concert: Tim Watts, John Duggan
Tim Watts studied composition with Jeffery Wilson, Hugh Wood and Robin Holloway. He is a Fellow of St John's College, Cambridge and also teaches at the Faculty of Music in Cambridge and at the Royal College of Music. Tim Watts combines careers as composer, pianist and teacher, and lives in Downham Market, Norfolk.
His music has been performed across the UK in venues including Wigmore Hall, the Purcell Room, the King's Head Theatre and Ely Cathedral, as well as internationally in Canada, Hong Kong and Singapore.
8:00 Optional : Formal Dinner in hall
Sunday 28th October
9:00 – 9:30 Coffee
9:30 – 11:00 Panel Five
Dr Lorrie Goldensohn
Vassar College, New York
'Wilfred Owen and the American Poet in Vietnam'
Wilfred Owen did not survive his war; Doug Anderson, W.D. Ehrhart and John Balaban lived to revisit Vietnam and take up conversations with old antagonists, even to translate their poems. This paper argues that although American experience of waste in war was no less profound than Owen's, these poets were stunned by a perpetual moral bewilderment through the violence rising among them against the people they were "saving."
Dr Vincent Trott
The Open University and Oxford Brookes University
'A hero poet of anti-war': publishing and teaching Wilfred Owen's poetry during the 1960s
Drawing on a range of archival sources, this paper reveals how Owen's publishers, Chatto & Windus, sought to promote and enhance the poet's reputation during the 1960s. It also examines how Owen was taught in schools, a process which further consolidated his position within the canon. Ultimately, the paper demonstrates how publishers and educationalists institutionalized Owen's poetry, in turn shaping the popular remembrance of the First World War in Britain.
Laura McKenzie
Durham University
'A hallucinated telescope into the cluttered thick of it': Ted Hughes and Wilfred Owen
This paper will locate what Ted Hughes described as Owen's 'romantic fever for the Gothic and the macabre' as a model for his own poems about war. It will argue that Owen's poetry allowed Hughes not only a 'hallucinated telescop[ic]' insight into the War's actuality, but a means by which to explore his father's combat and post-traumatic experience.
11:00 – 11:30 Coffee
11:30 – 12:30pm Keynote: Professor Douglas Kerr
12:30 – 12:45 Concluding Remarks
Cost
The cost of attendance is £98 (which includes lunch on Saturday and other refreshments, a wine and cheese reception on the Saturday evening, plus a dance performance on the Friday evening and the performance of Tim Watts's composition on the Saturday evening; a supper on the Friday and the conference dinner on the Saturday are optional extras.  
Booking
The conference website is here> Wilfred Owen Centenary 
To book click here> Wilfred Owen and Beyond
IMAGES: A scan of a final draft of Anthem for Doomed Youth by Wilfred Owen, penned by the author.This image is taken from The Wilfred Owen Multimedia Digital Archive, which scanned it from the printed edition of Wilfred Owen: The Complete Poems and Fragments (Jon Stallworthy, 1994) from the Oxford Text Archive. Also a Letter To Leslie Gunston which includes a draft of 'The Dead Beat'. The letter covers two days. From the First World War Poetry Digital Archive. 
The Centre for Life Writing, Wolfson College, Linton Rd, Oxford OX2 6UD
'Wilfred Owen and Beyond' : 26 - 28 October, Wolfson College, Oxford
26 Oct 2018 13:00