In the spring of 1918 Vera Brittain was based at No.1 Canadian General Hospital.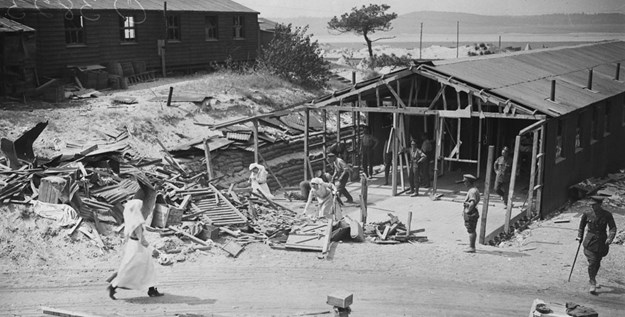 Bomb Damage at No. 1 Canadian General Hospital. Canadian Dept. of Defence / Library and Archives Canada. PA-003747
Vera Brittain wrote at the time:
"On April 11th, after a dizzying rush of wounded from the new German offensive at Armentieres, I stumbled up to the Sisters' quarters for lunch with the certainty that I could not go on – and saw, pinned up on the notice board in the Mess, Sir Douglas Haig's 'Special Order of the Day'.
Standing there spellbound, with fatigue and despair forgotten, I read the words which put courage into so many men and women whose need of endurance was far greater than my own: 
TO ALL RANKS OF THE BRITISH ARMY IN FRANCE AND FLANDERS
Three weeks ago to-day the enemy began his terrific attacks upon us on a fifty-mile front. His objects are to separate us from the French, to take the Channel Ports, and destroy the British Army. 
In spite of throwing already 106 Divisions into the battle and enduring the most reckless sacrifice of human life, he has as yet made little progress towards his goals.
We owe this to the determined fighting and self-sacrifice of our troops. Words fail me to express the admiration which I feel for the splendid resistance offered by all ranks of our Army under the most trying circumstances.
Many among us now are tired. To those I would say that Victory will belong to the side which holds out the longest. The French Army is moving rapidly and in great force to our support.
There is no course open to us but to fight it out. Every position must be held to the last man: there must be no retirement. With our backs to the wall and believing in the justice of our cause each one of us must fight on to the end. The safety of our homes and the Freedom of mankind alike depend upon the conduct of each one of us at this critical moment.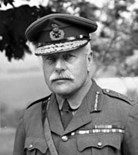 Haig, F.M. General Headquarters, Thursday April 11th 1918
Although, since that date, the publication of official 'revelations' has stripped from the Haig myth much of its glory, I have never been able to visualise Lord Haig as the colossal blunderer, the self-deceived optimist, of the Somme massacre in 1916. I can think of him only as the author of that Special Order, for after I read it I knew that I should go on, whether I could or not. There was a braver spirit in the hospital that afternoon, and though we only referred briefly and brusquely to Haig's message, each one of us had made up her mind that, though enemy airmen blew up our huts, and the Germans advanced upon us from Abbeville, so long as wounded men remained in Etaples, there would be 'no retirement.' "
Source: Vera Brittain, Testament of Youth (1933) Victor Gollancz Ltd. pp 419-420
WFA Trustee Dr Phylomena Badsey, an expert on Vera Brittain and frequent speaker on Vera Britain's importance wrote this piece for the Western Front Association website : Vera Brittain - The Militant Pacifist: Misconceptions of her Importance in Military History.
The Western Front Association are marking the 'Hundred Days' in many ways, not least by supporting a number of upcoming conferences, but also with the creation of a Special Edition WFA Mug and Limited Edition Coaster.