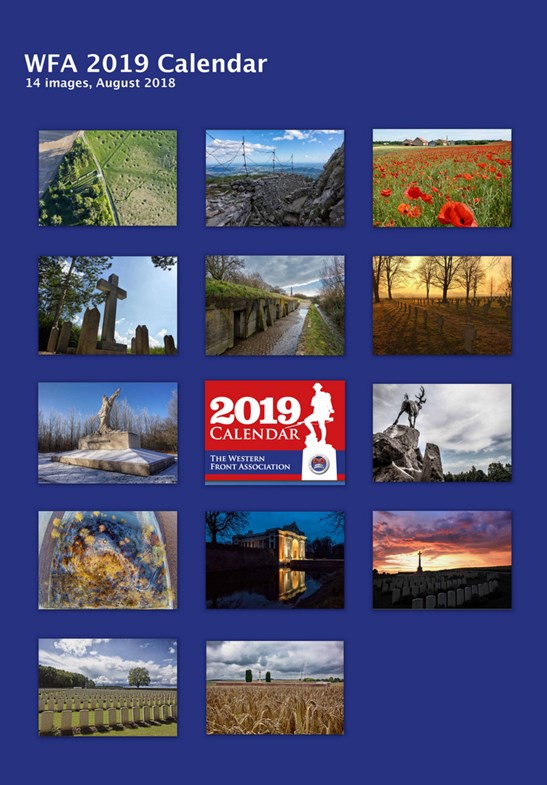 Once again the WFA Calendar features stunning work donated freely to the calendar project. We would like to thank Tom Bruelemans, Andrew Holmes, Stephen Kerr, Paul Reed, Nick Stone, David Tattersfield and John White.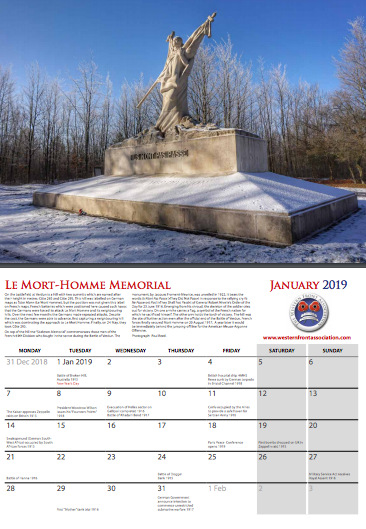 Now available from the Shop with dispatch ​from early September.
Each month is featured by the following landmarks: 
Le Mort-Homme Memorial: January 2019 
Maissemy Soldatenfriedhof : February 2019 
McCrae at Essex Farm : March 2019 
The 'Butterfly Memorial' at Blingy : April 2019 
Poppies on the Chemin de Dames : May 2019 
Preserved Trenches at Monte Tomba : June 2019 
'Y' Ravine Cemetery : July 2019 
Londoners at Rancourt : August 2019
Sanctuary Wood : September 2019 
Sunset at Marfaux : October 2019
The Menin Gate : November 2019
The Butte de Warlencourt : December 2019 
The Newfoundland Caribou : January 2020
Details
A4 size when folded, opens out to A3 when hung on your wall. 

£10 (Inc p&p) For UK (and BFPO)

£12.35 (incl p&p) Europe (incl Eire)

£13.50 (incl p&p) Rest of the World
Order by post or online or by phone on 020 7118 1914
Calendars will be sent out in September.
Purchase your copy now > The Western Front Association 2019 Calendar